Imagine this: you're jamming to your favorite tunes, the music is pumping, and suddenly, the sound becomes muffled. You fiddle with the earbuds, but no luck. The culprit? Dirty earbuds. Fear not, fellow audiophiles, for we've got you covered.
In this article, we'll dive into the art of how to clean and maintain earbuds, ensuring they stay pristine and sound impeccable. Plus, we'll introduce you to some top-notch earbuds that deserve your attention. So buckle up, and let's embark on this earbud-cleaning journey together.
Earbuds: A Brief History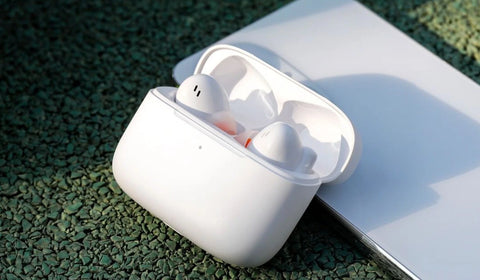 Earbuds have come a long way since their humble beginnings in the early 20th century. Initially designed for telephone operators and radio professionals, these small audio devices quickly gained popularity among consumers as portable music players emerged.
Over the years, earbuds have evolved to cater to the ever-changing needs and preferences of users. From wired to wireless, noise-canceling to fitness-focused, there's an earbud design for every lifestyle.
The continuous advancements in technology have allowed manufacturers to pack impressive sound quality, extended battery life, and various features into these tiny gadgets.
Today, earbuds play a significant role in our daily lives, providing us with an unparalleled audio experience and the convenience of enjoying music, podcasts, and calls on the go.
Why It's Crucial to Clean and Maintain Earbuds
Before diving into the nitty-gritty of earbud maintenance, let's address the elephant in the room: why should we even bother? The answer is simple. Properly maintained earbuds not only last longer but also provide optimal sound quality. Plus, keeping them clean helps prevent ear infections and keeps those pesky germs at bay. So, without further ado, let's get to work.
Gather Your Cleaning Supplies
First things first, you'll need the right cleaning supplies for your earbuds. Here's a list of items you'll want to have on hand:
A soft, lint-free cloth

A small brush (an old toothbrush works wonders)

Cotton swabs

Rubbing alcohol or hydrogen peroxide

A small container for mixing solutions

A toothpick or other fine-pointed tool
Now that you've got your cleaning arsenal ready, let's put it to good use.
The Step-By-Step Guide to Cleaning Your Earbuds
Let's get right into the reason you're here! Follow these steps to make your earbuds shine like new:
1. Disconnect and Remove Eartips
Before anything else, disconnect your earbuds from any devices and remove the eartips (if they have removable ones). This will give you easy access to all the nooks and crannies of your earbud design.
2. Dry Clean the Earbuds
Grab that soft, lint-free cloth and gently wipe the earbuds to remove any loose debris or dirt. This will make the rest of the cleaning process much more effective.
3. Brush Away Grime
Take your small brush or old toothbrush and gently scrub the mesh and outer surface of the earbuds. This step will help dislodge any stubborn dirt or earwax.
4. Swab the Details
Dip a cotton swab in rubbing alcohol or hydrogen peroxide and gently clean the nooks and crannies of your earbuds. Be cautious not to get any liquid inside the earbuds, as it can damage the internal components.
5. Clean the Eartips
If your earbuds have removable eartips, now's the time to give them a thorough cleaning. Use a mixture of warm water and mild soap to clean the eartips, then rinse and let them air dry completely before reattaching them to your earbuds.
6. Dry and Reassemble
Once you've finished cleaning, give your earbuds a final wipe down with a dry cloth and let them air dry. When everything is completely dry, reattach the eartips (if applicable) and reconnect to your devices.
Voilà! Your earbuds are now squeaky clean and ready to deliver top-notch sound quality.
Maintain Your Earbuds for Longevity
Now that you know how to clean your earbuds, it's essential to maintain them regularly. Here are some tips to keep your earbuds in tip-top shape:
Clean Them Regularly
Make it a habit to clean your earbuds at least once a month or more frequently if you use them daily or in dusty environments. This will ensure optimal performance and longevity.
Store Them Properly
When not in use, store your earbuds in a protective case to prevent dirt buildup and avoid tangling the wires. Proper storage will help extend the life of your earbuds and keep them ready for use whenever you need them.
Avoid Pulling on the Cables
When unplugging your earbuds, always grip the plug instead of yanking on the cable. This will prevent unnecessary stress on the wires, reducing the risk of damage or fraying.
Keep Them Dry
Avoid using your earbuds in overly humid or wet environments, as moisture can damage the internal components. If they do get wet, dry them off as quickly as possible with a soft cloth.
Introducing Our Top Earbud Picks
Now that you're an earbud-cleaning expert, it's time to discover some exceptional earbuds that match your advanced tech lifestyle and high standards for sound quality.
Baseus WM02 Wireless Earphones TWS Bluetooth 5.3 Headphones
Baseus WM02 Wireless Earphones boast a sleek, minimalist design that's both comfortable and compact. With a whopping 25-hour battery life, you can enjoy your favorite tunes all day long. The Bluetooth 5.3 connection ensures seamless connectivity and excellent sound quality, making these earphones a must-have for any audiophile.
Baseus Bowie M2+ ANC TWS Bluetooth 5.2 Earphones
The Baseus Bowie M2+ ANC TWS Bluetooth 5.2 Earphones feature Active Noise Cancelling (ANC) technology, allowing you to fully immerse yourself in your music without distractions. With their user-friendly design, impressive sound quality, and Bluetooth 5.2 connectivity, these earphones are perfect for those who demand excellence in audio performance.
Keep Your Earbuds Clean and Enjoy the Sound
Knowing how to clean and maintain earbuds is a simple yet crucial aspect of ensuring top-notch audio performance and longevity. By following the tips and steps provided in this guide, you can keep your earbuds in pristine condition and continue to enjoy the best possible sound quality.
And if you're in the market for new earbuds, consider checking out our recommended Baseus WM02 Wireless Earphones and Baseus Bowie M2+ ANC TWS Bluetooth 5.2 Earphones for a truly exceptional audio experience. Get in touch if you need any help or want to know more!
So, go forth and clean your earbuds like a pro. Your ears will thank you for it.