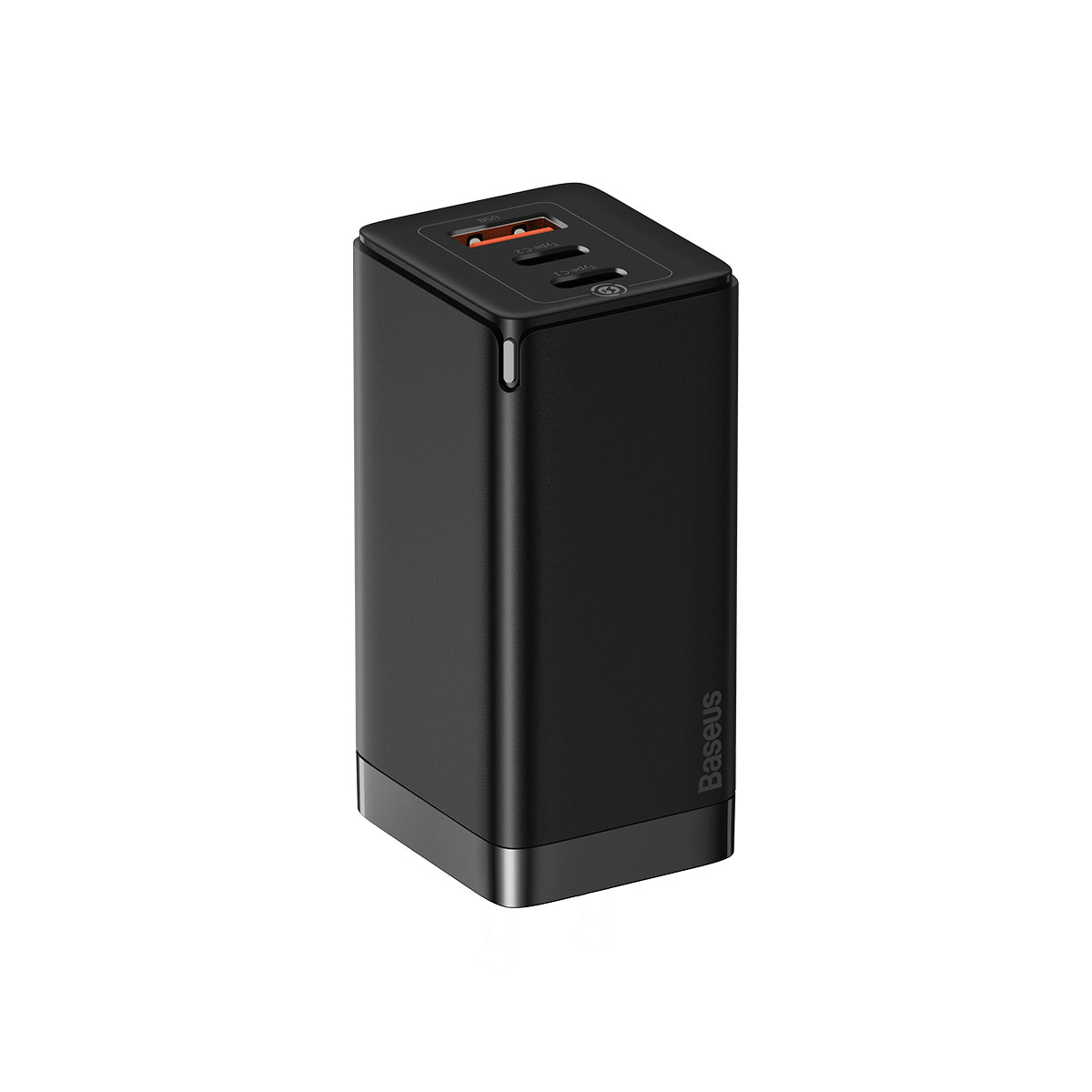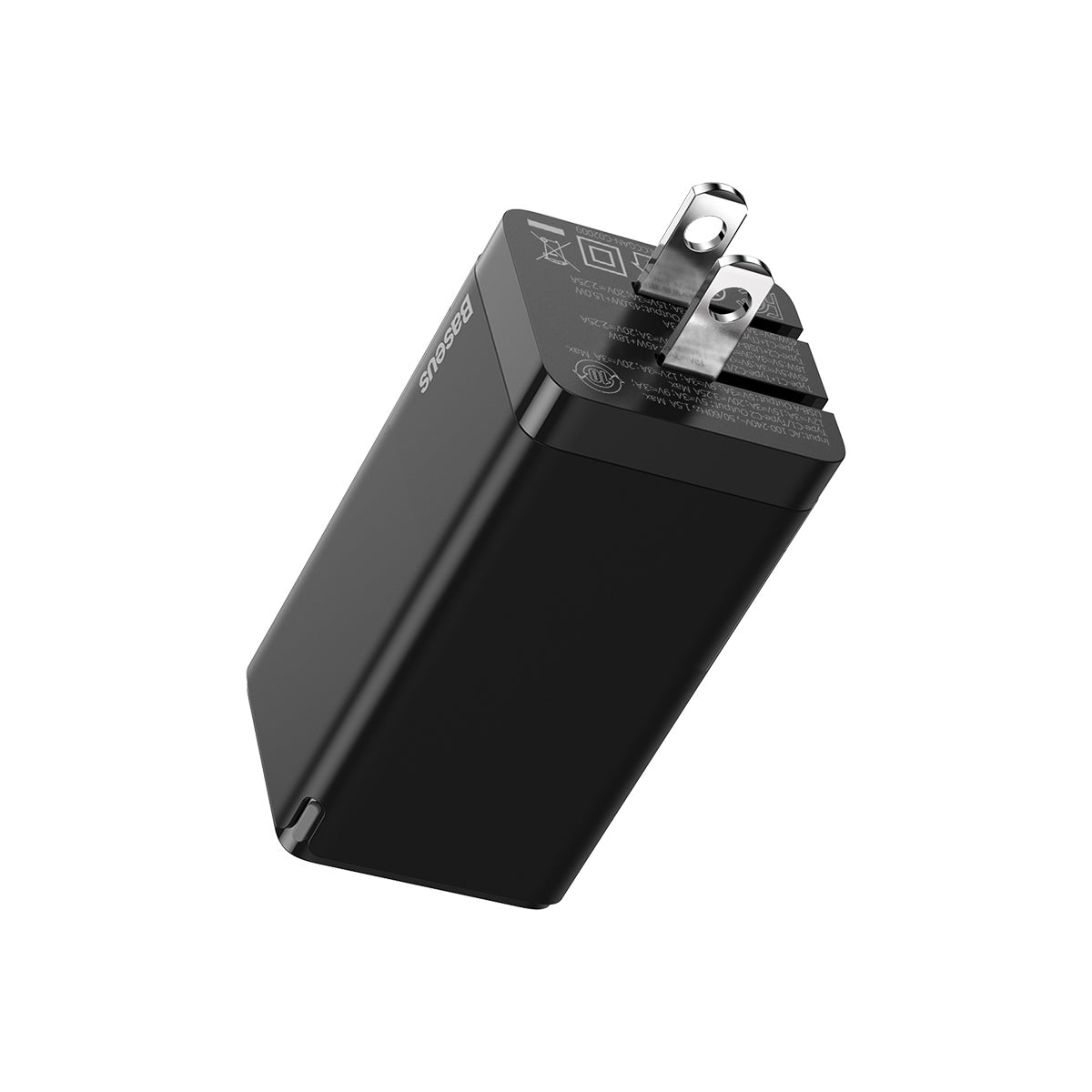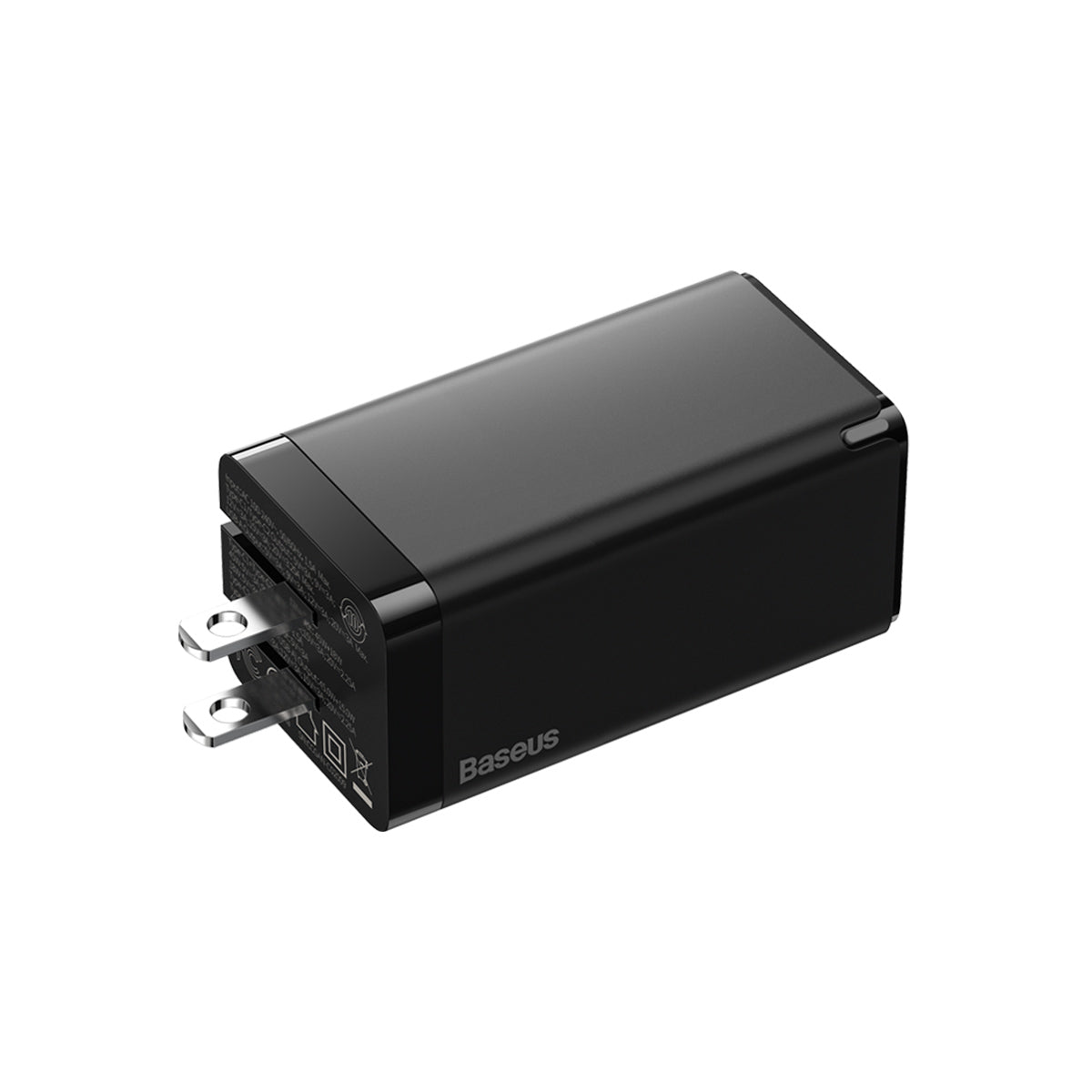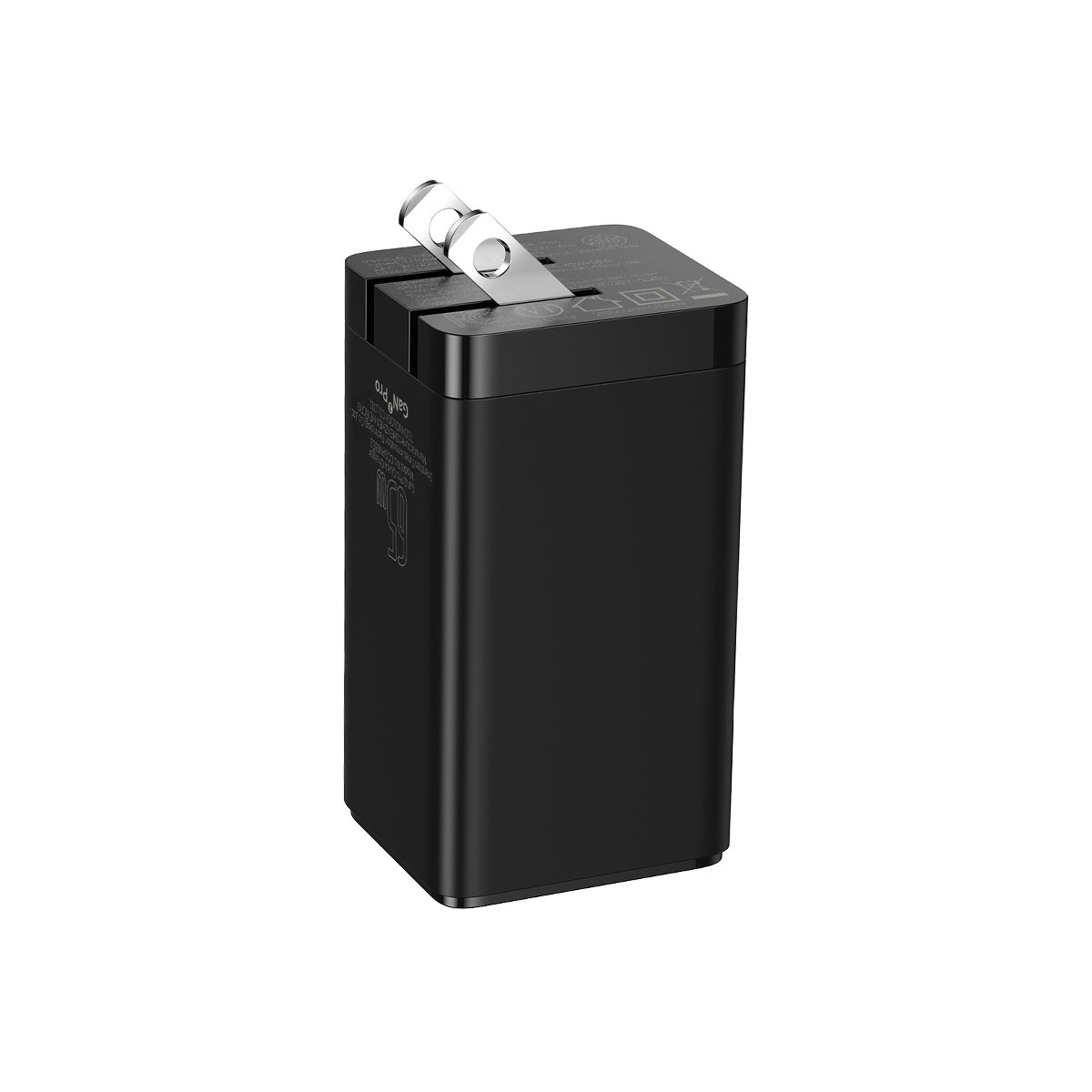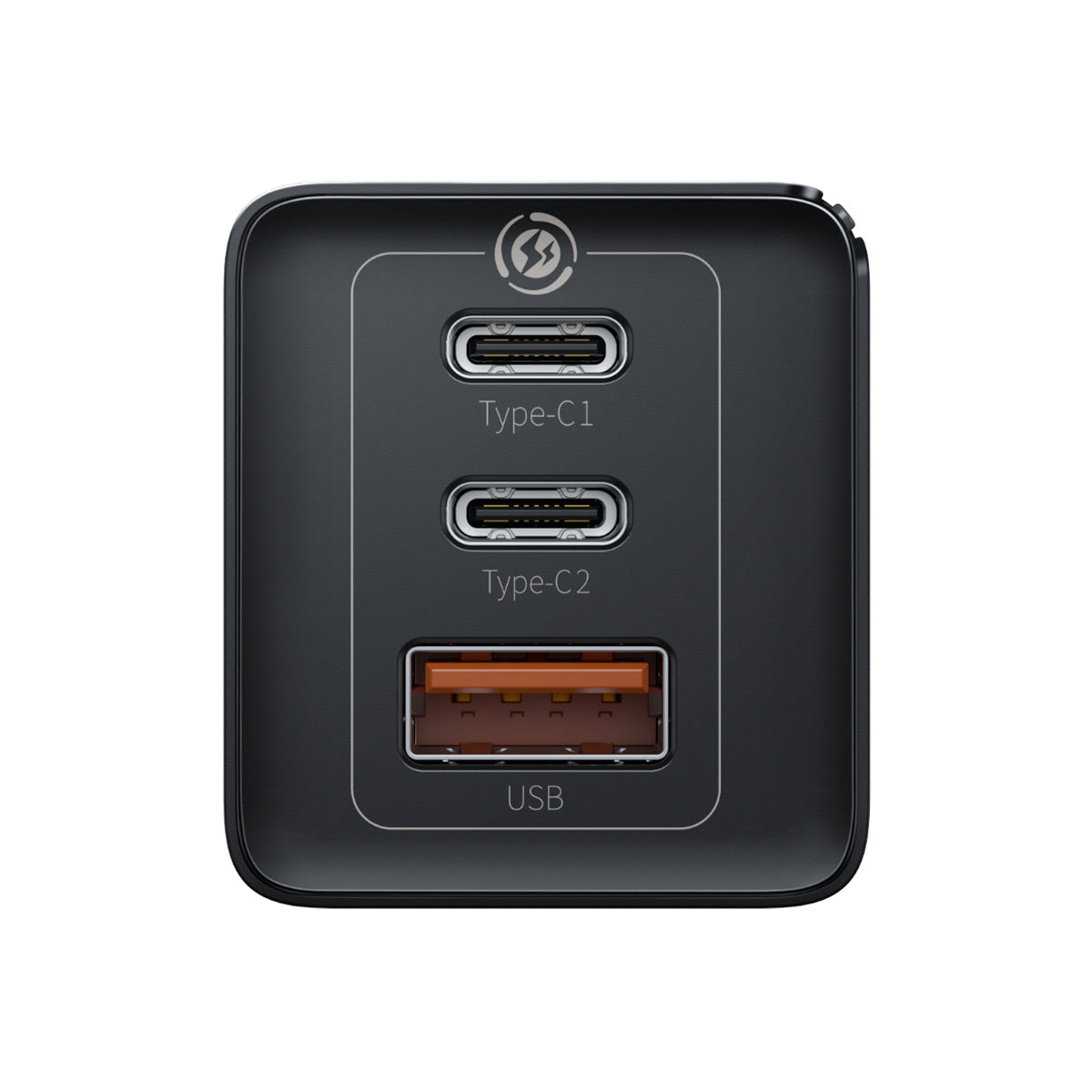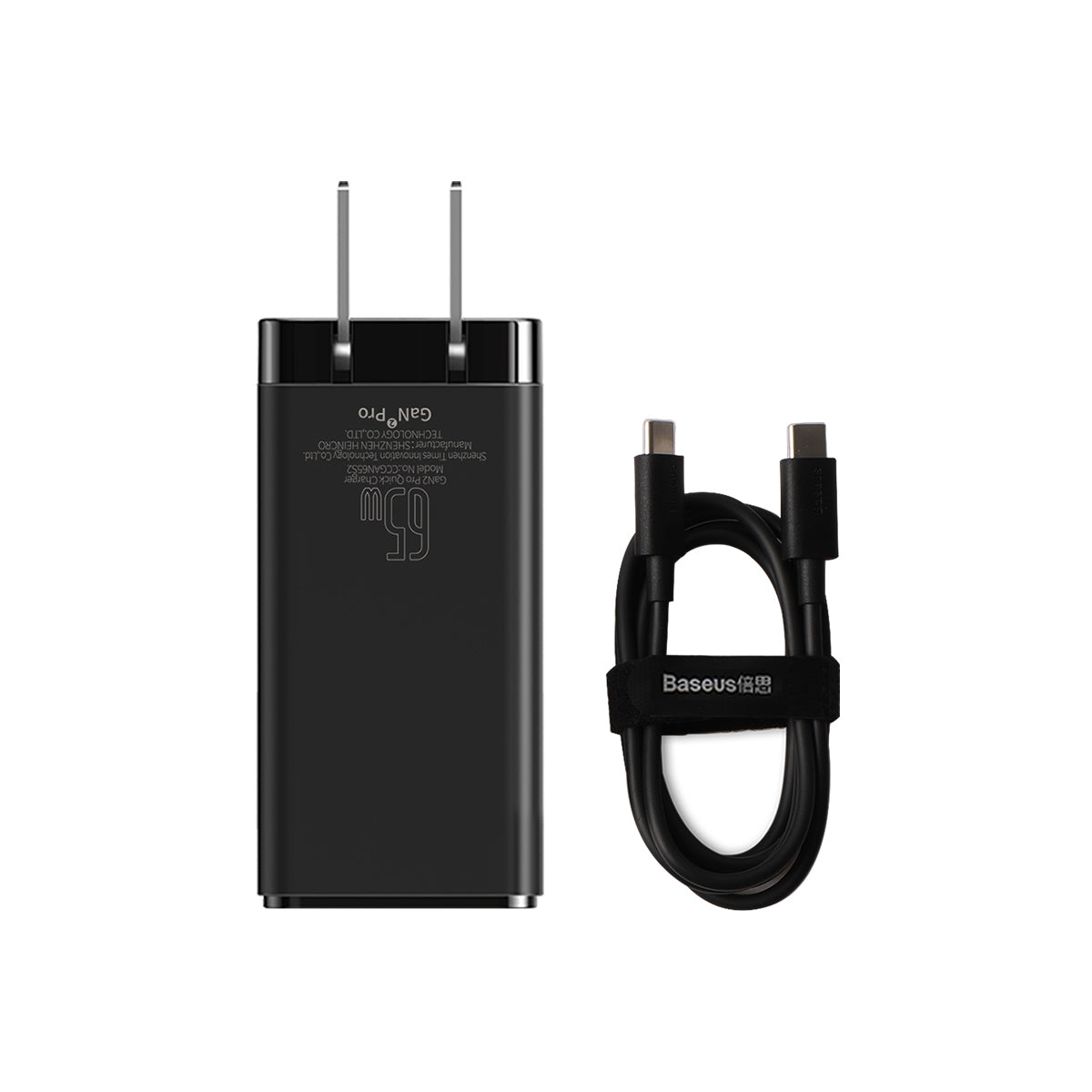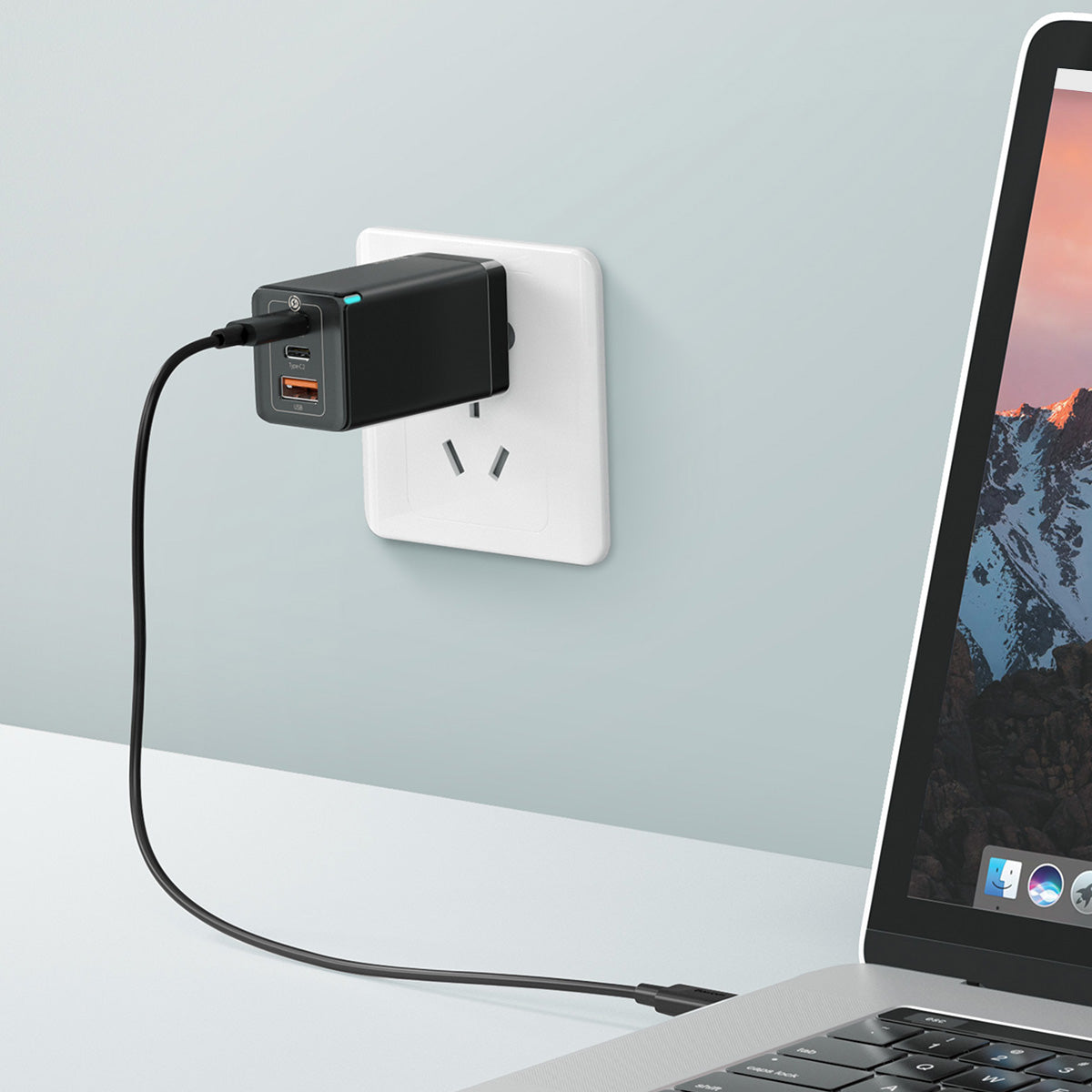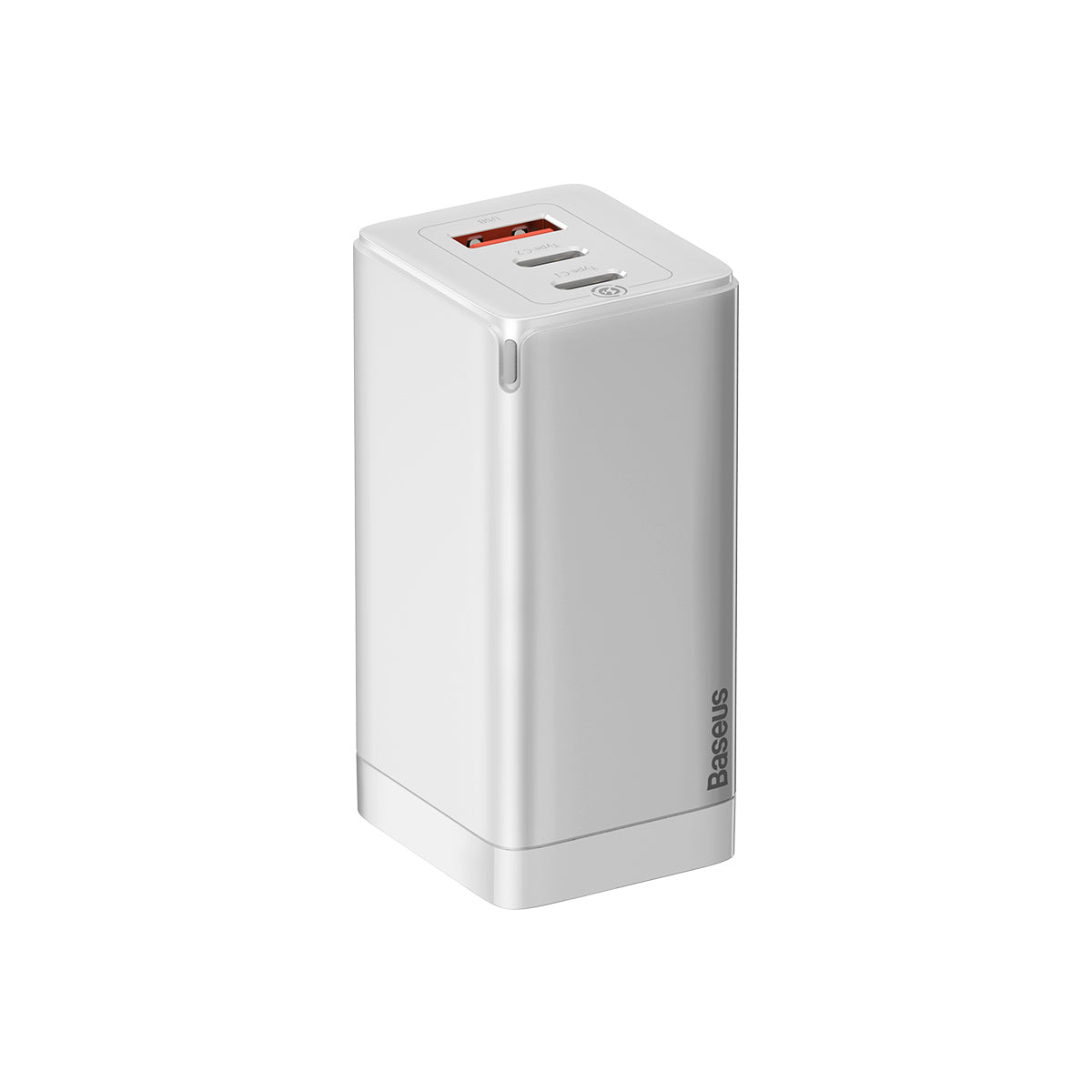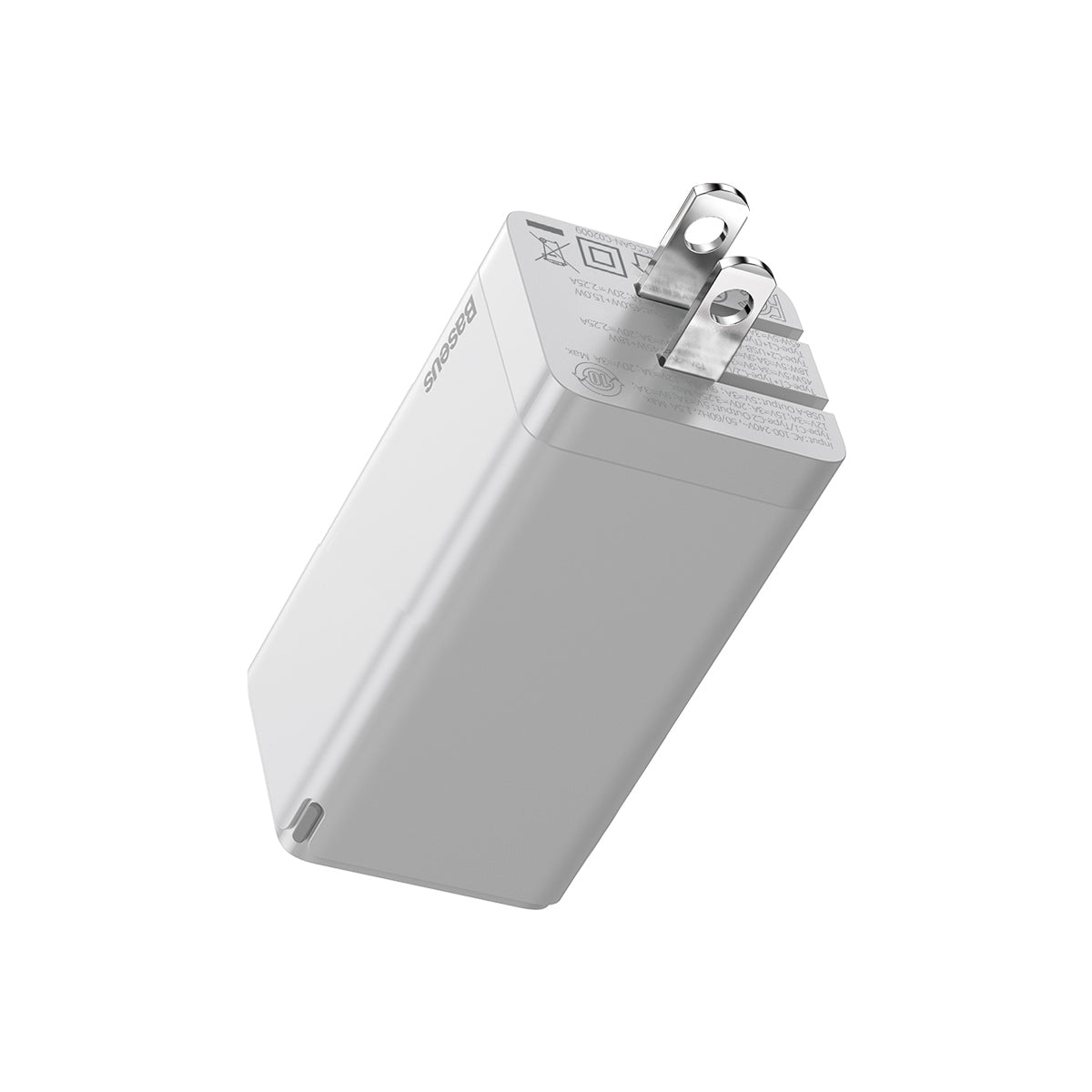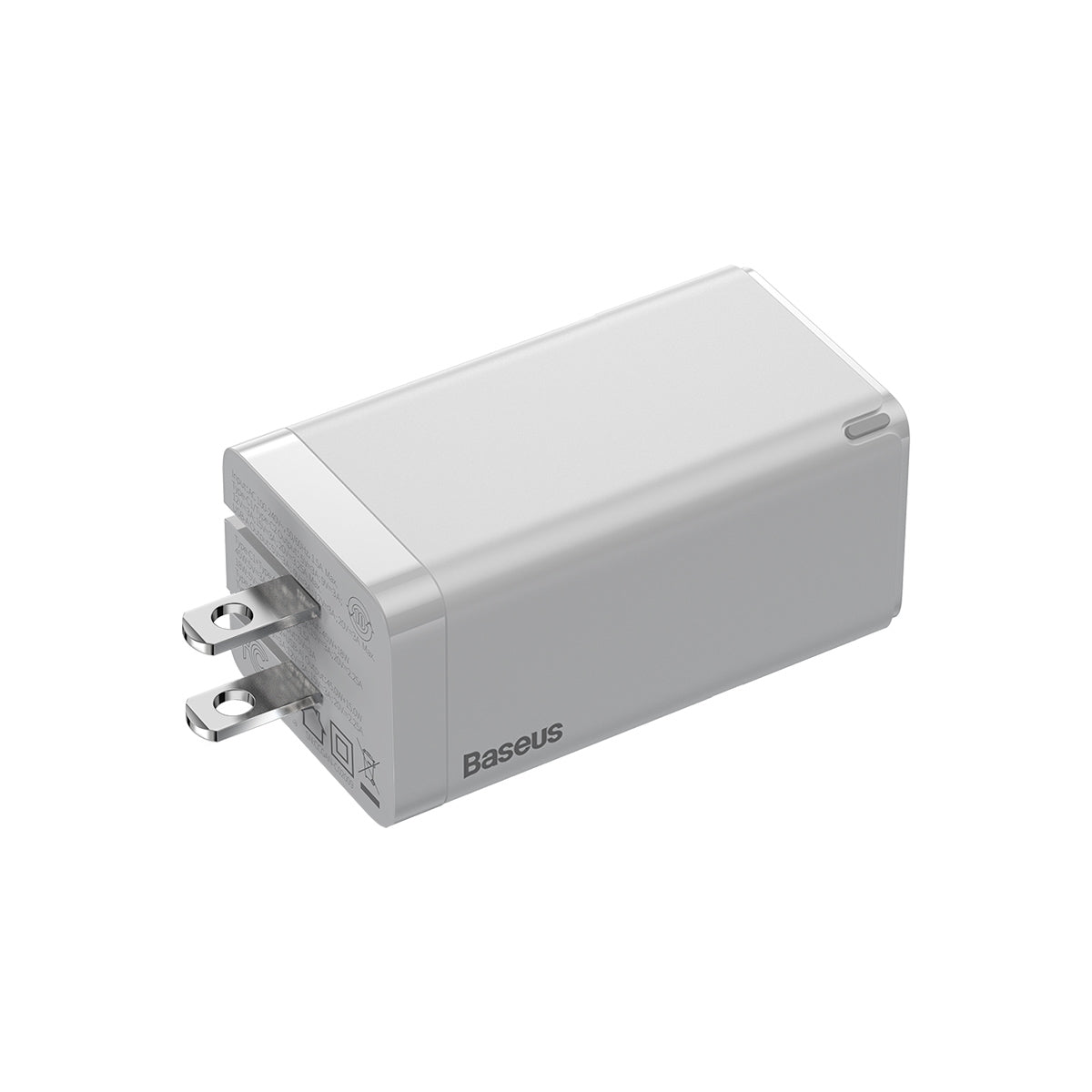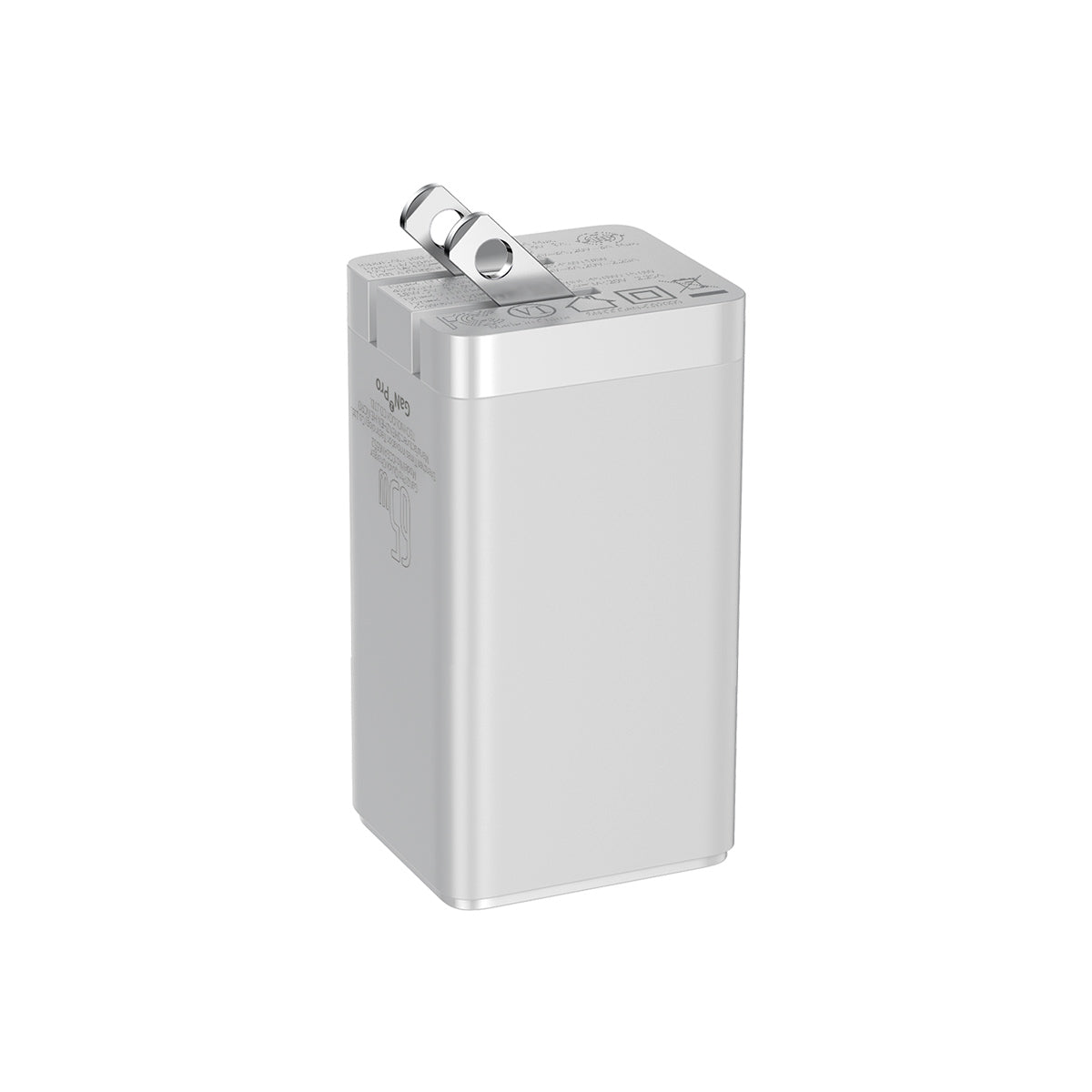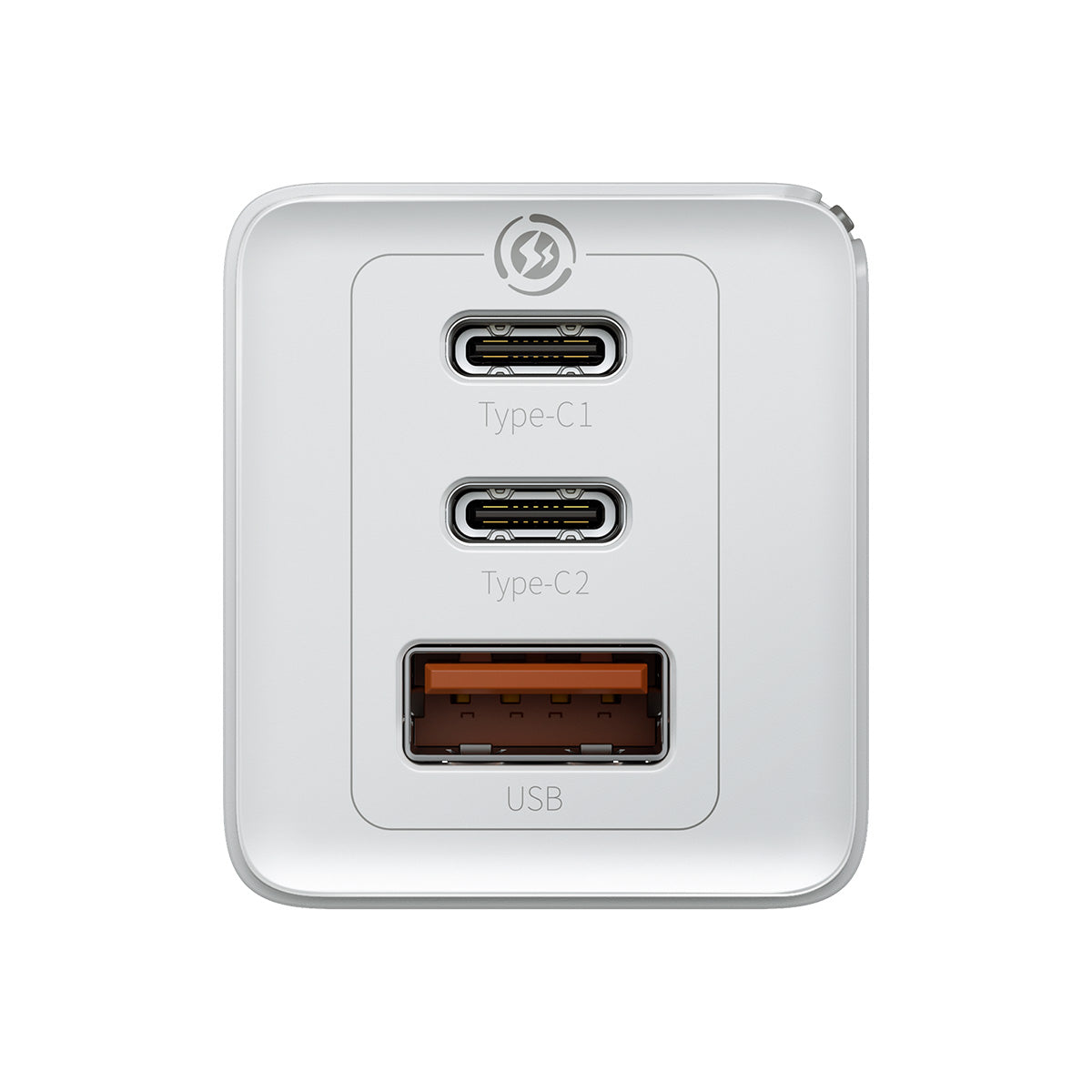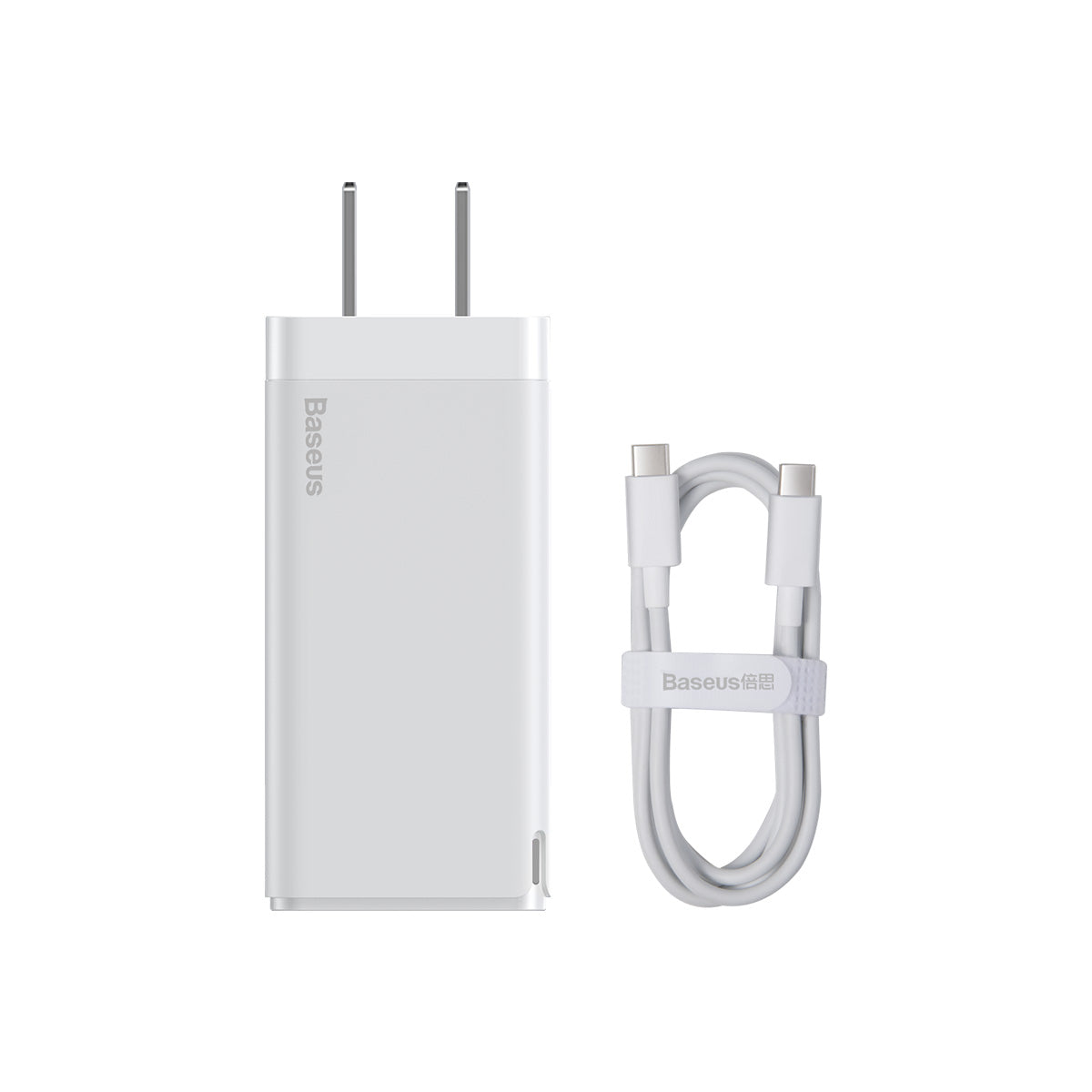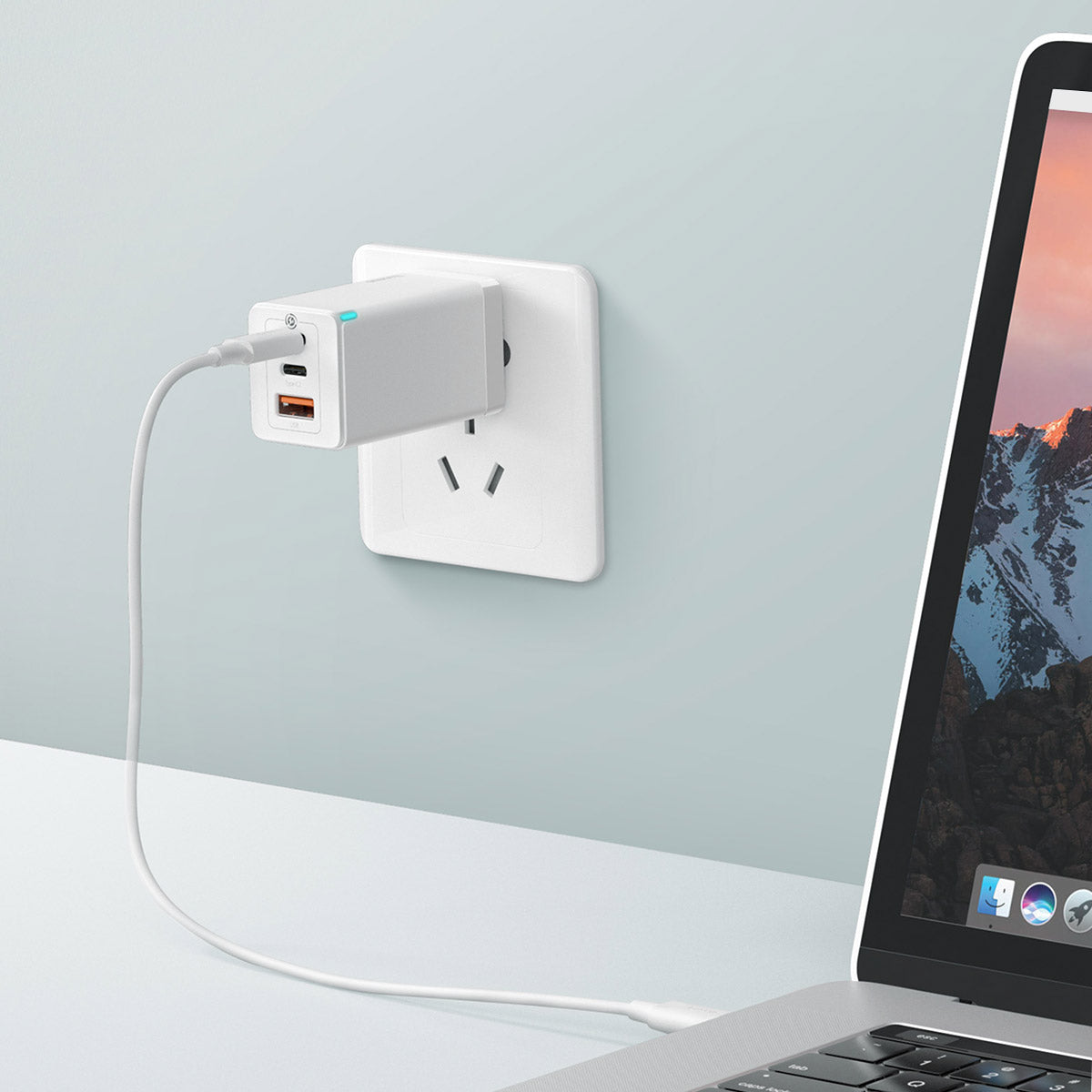 Baseus GaN2 3 Ports Fast Charger 65W
Baseus GaN2 Pro 65W 3-Port Fast Charger is a GaN wall charger with 2 USB-C and 1 USB-A port to fast charge up to 3 devices at the same time.
● Most Fast Than Ever
● Fast charge an iPhone up to 50% in only 30min
● 65 Watt PD USB-C Charger
● GaN Technology
● Space-Saving USB Charger
Maxing out at 65W total power, it can bring you up to full bar fast.
Faster Than Ever, 3x Faster Charging Performance
25-Min to charge 50% of iPhone13 / 13Pro. 3x faster than with an original 5W charger.

2-Hour to full charge of MacBook Pro 13" 2020.

Supports Multi Fast-Charging protocols(PPS, QC3.0, PD3.0, etc)

Charge your Steam Deck, Galaxy S22 Ultra, S22+, S22 with 45W flash charge.
ONE slim adapter for THREE devices charging.
Save 30% of charging time.
No wait for charging. Equipped two USB Type-C ports and one USB Type-A port, you can power up several household devices at the same time. We reasonably distribute power to different mobile devices via Baseus power split(BPS) technology intelligently power allocation.
Note: As a multi-port charger, an overpower protection is integrated.
When you plug an extra cable to charge a second device or more, it will cut the current and pause for seconds then reallocate the optimal power to each device.
(In rare cases, the 65W fast charger failed to reallocate power, please unplug, then plug back your charging cable.)
Why Choose GaN Safe Tech?
GaN 3.0 Semiconductor Material, latest upgraded material for charging. Compare to previous Silicon material, GaN has better performance.
5x Charging speed, With great high-speed transmission comes great capability.

30% Smaller, Reduce the volume of transformers and capacitors of components.

Less heat, due to superior thermal conductivity and better heat dissipation, GaN material is safer to charge.
Baseus 65W 3-Port Fast PD Power Adapter
After more than a decade of focus on consumer electronics, innovation and creation have been the power source of Baseus products. By integrating the industry-leading GaN technology, we conferred chargers a higher power and promoted structural optimization.
Baseus power split(BPS) Intelligently Power Allocation.

GaN Safe Technology, Highly-Efficiency, Energy Efficient, Less Heat.

Space-Saving, 90° Foldable Plug, 30% Smaller Body

Universal Compatibility, Not only for iPhone, iPad, it also charges your laptop.
Travel and Work-from-Home Essentials
Laptops need no heavy blocks. Eliminating the bottleneck we used to have when needing to recharge multiple devices and laptops quickly for work and travel.
Not only for iPhone, iPad charging, it also charges your Steam Deck and laptop. What's more, charge your Galaxy S22 Ultra, S22+, S22 with 45W flash charge.
More compact than ever before, it runs cool and quiet even while tackling these intense workloads.
Compare Baseus Fast Charger
Charging Port
2 USB C + 1 USB A
2 USB C + 1 USB A
1 USB C + 1 USB A
2 USB C +1 USB A
iPhone Fast Charging

✔
✔
✔
✔
Samsung Fast Charging

✔
✔
✔
✔
Macbook Compatible

✔
✔
✘
✘
Size / Inch

2.76 x 1.42 x 1.26
3.62 x 2.01 x 0.67
1.89 x 1.37 x 1.18
3.74 x 2.36 x 1.18
Weight / oz

5.36
3.42
2.39
10.16
The USB-A port power is 12W, and the USB-C port is 18W. It cannot support fast charging, but it can be used for multiple ports.
Yes. This charger is compatible with the pixel 4a.
This is controlled by a smart chip. When the USB-C 1 and the USB-A port are charged at the same time, the power of the Type-C1 port is 45W, and the USB-A port is 18W.
It comes with a 100W USB C to USB C cable, please rest assured.
When charging normally, the indicator light will not flash but will always be on. The flickering situation is suspected of poor contact. It is recommended to try another socket.