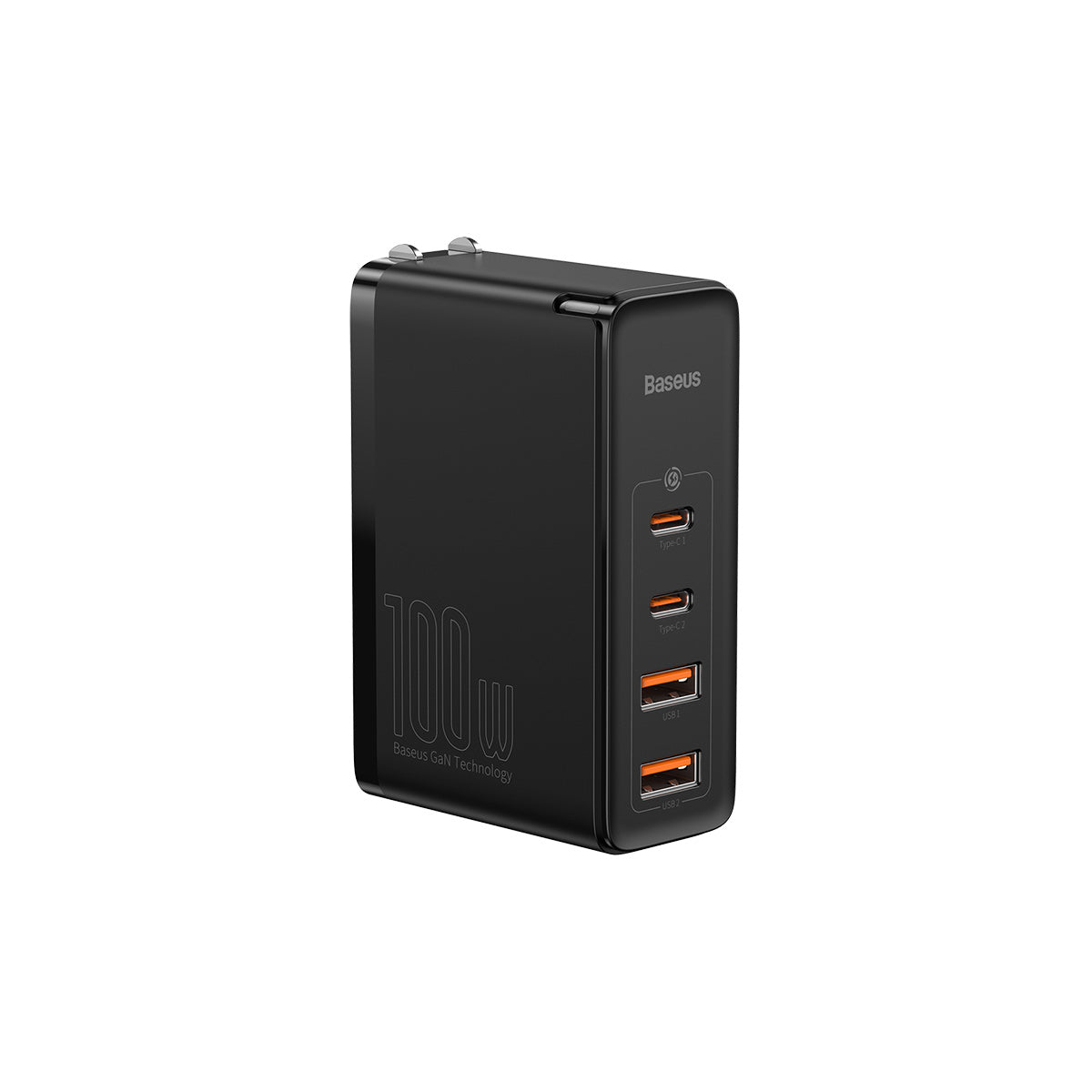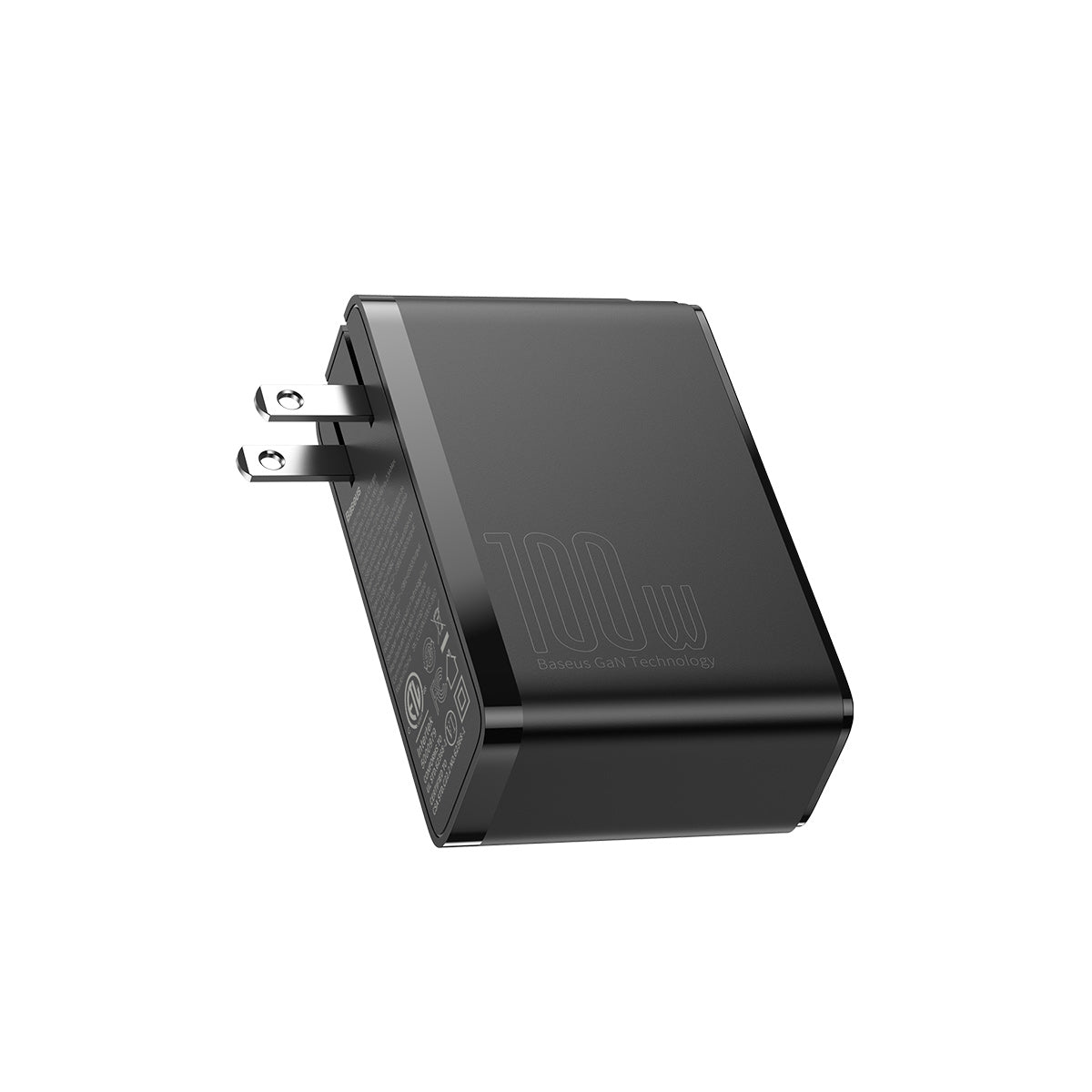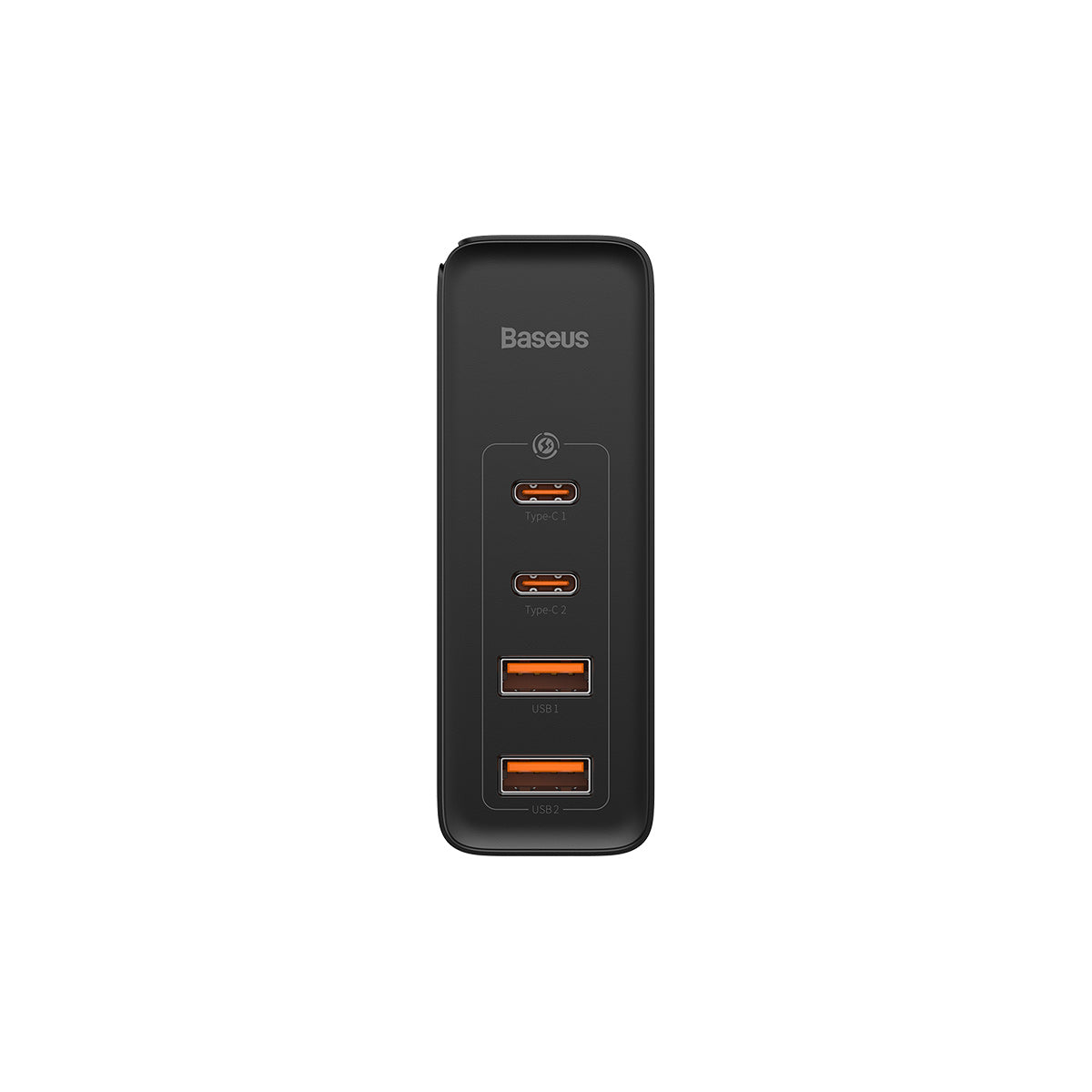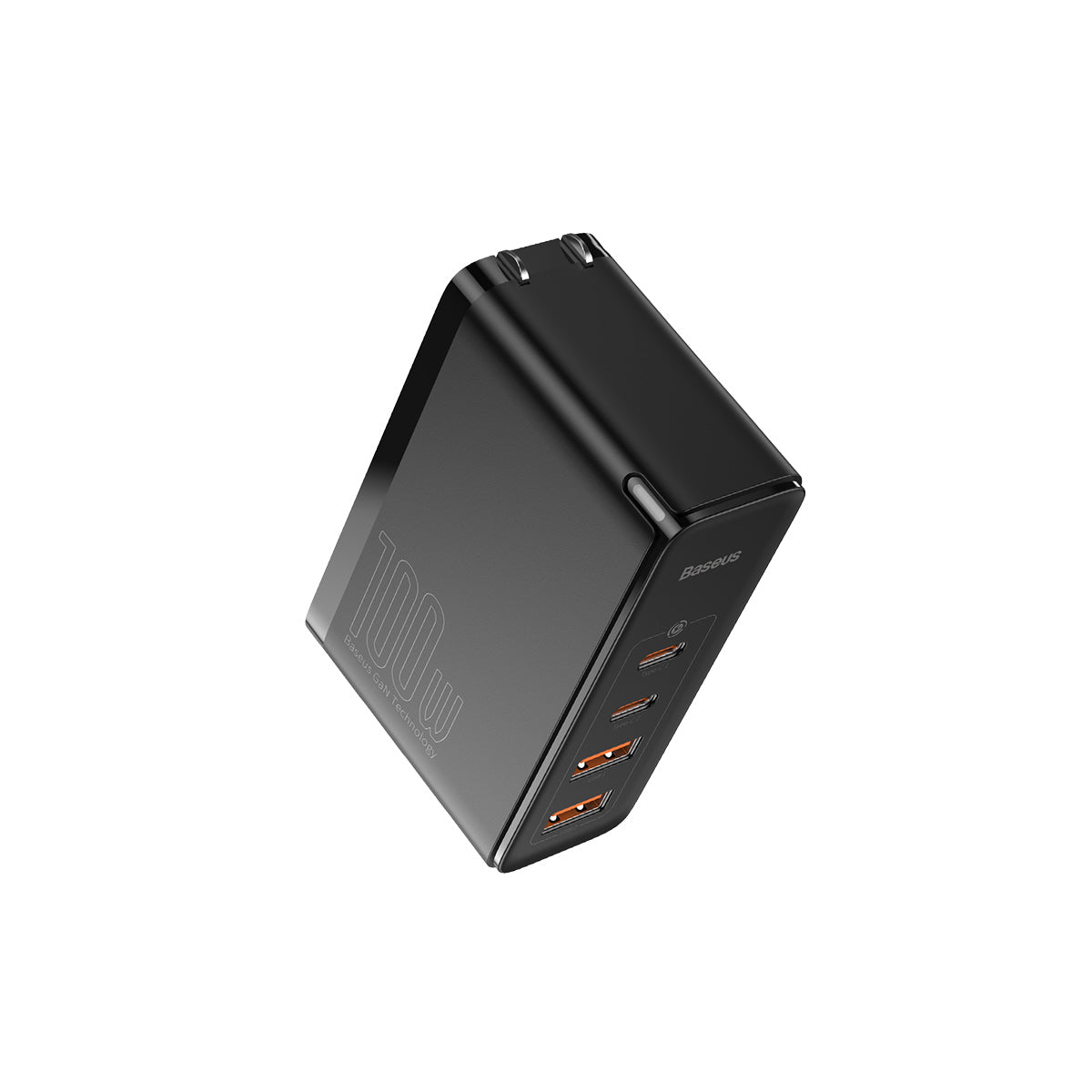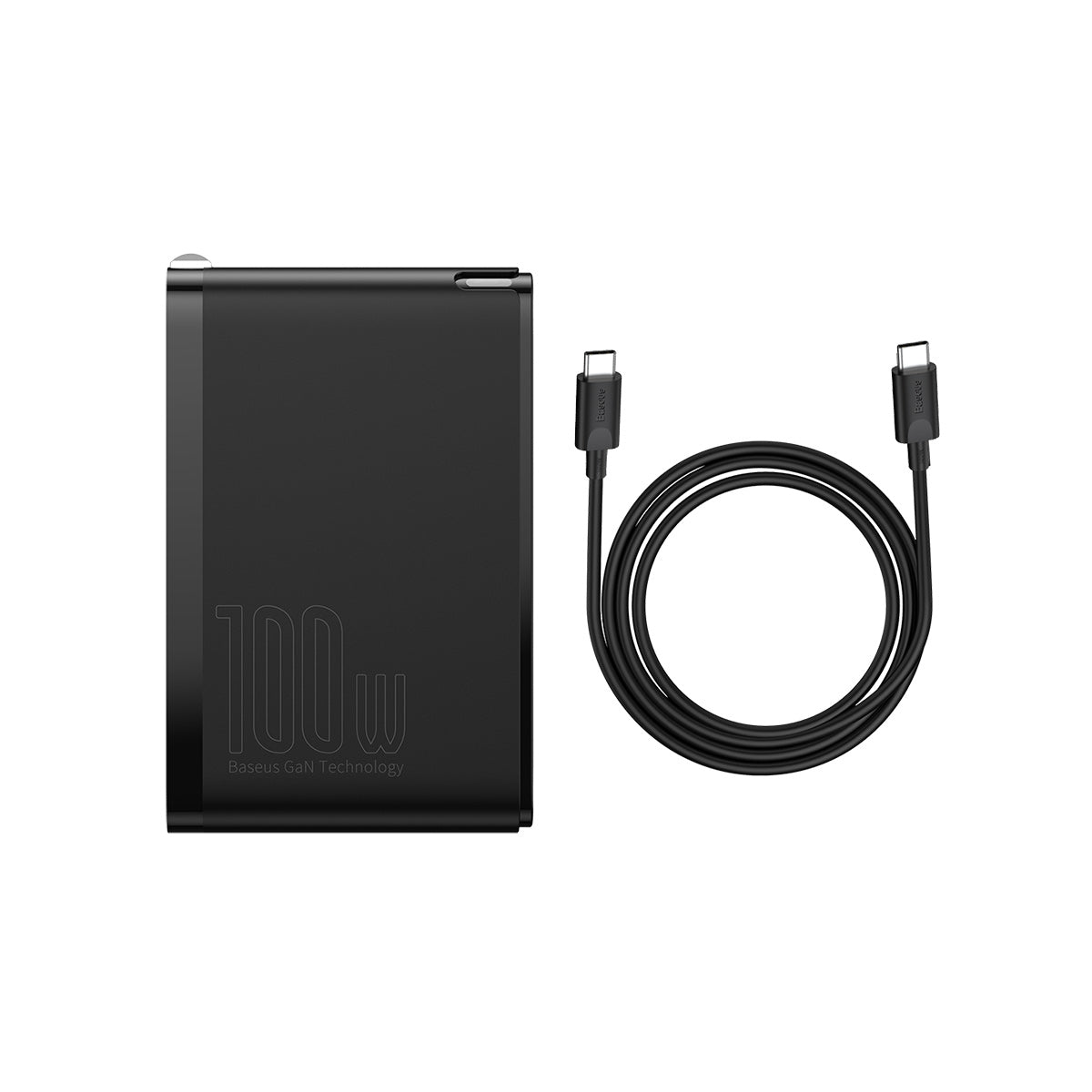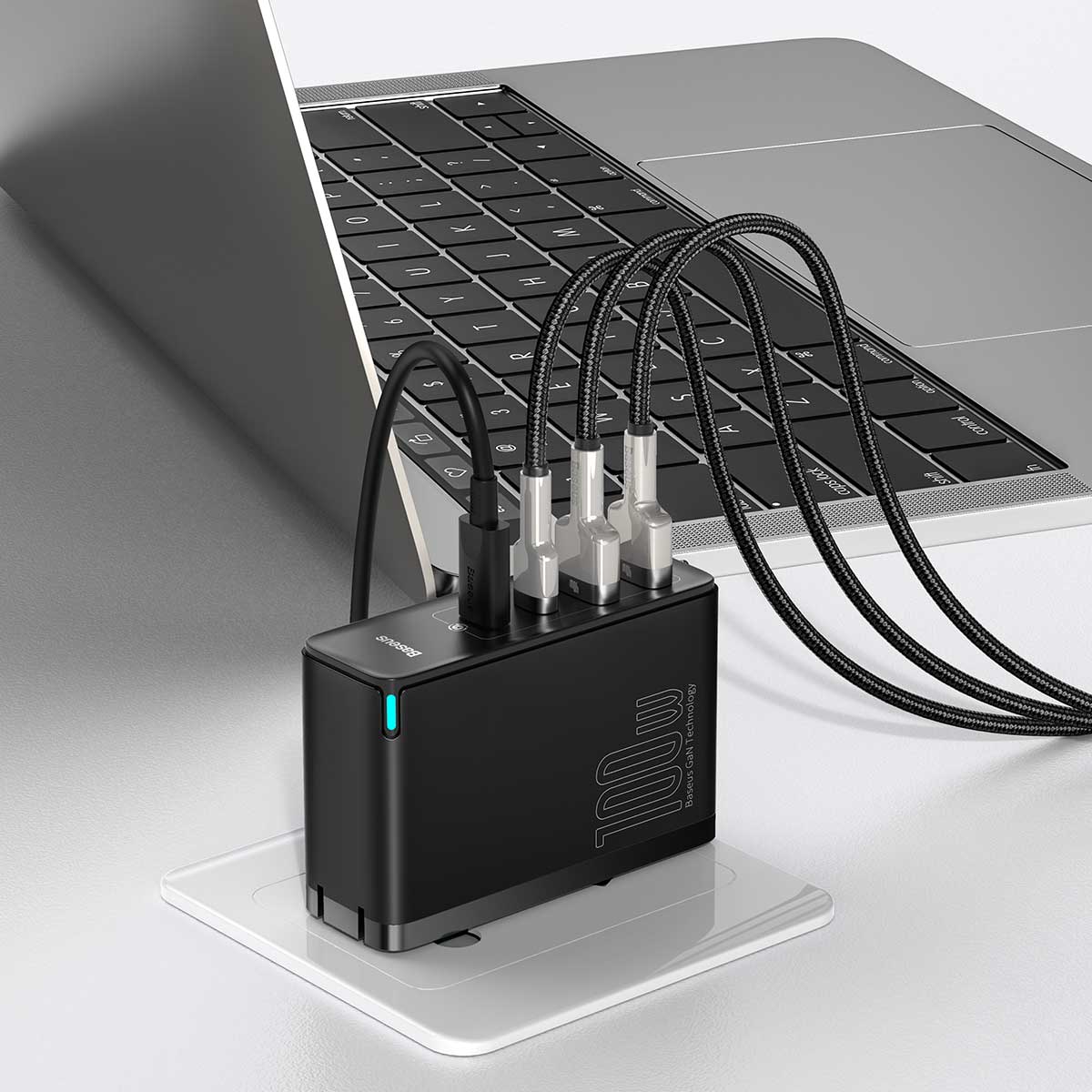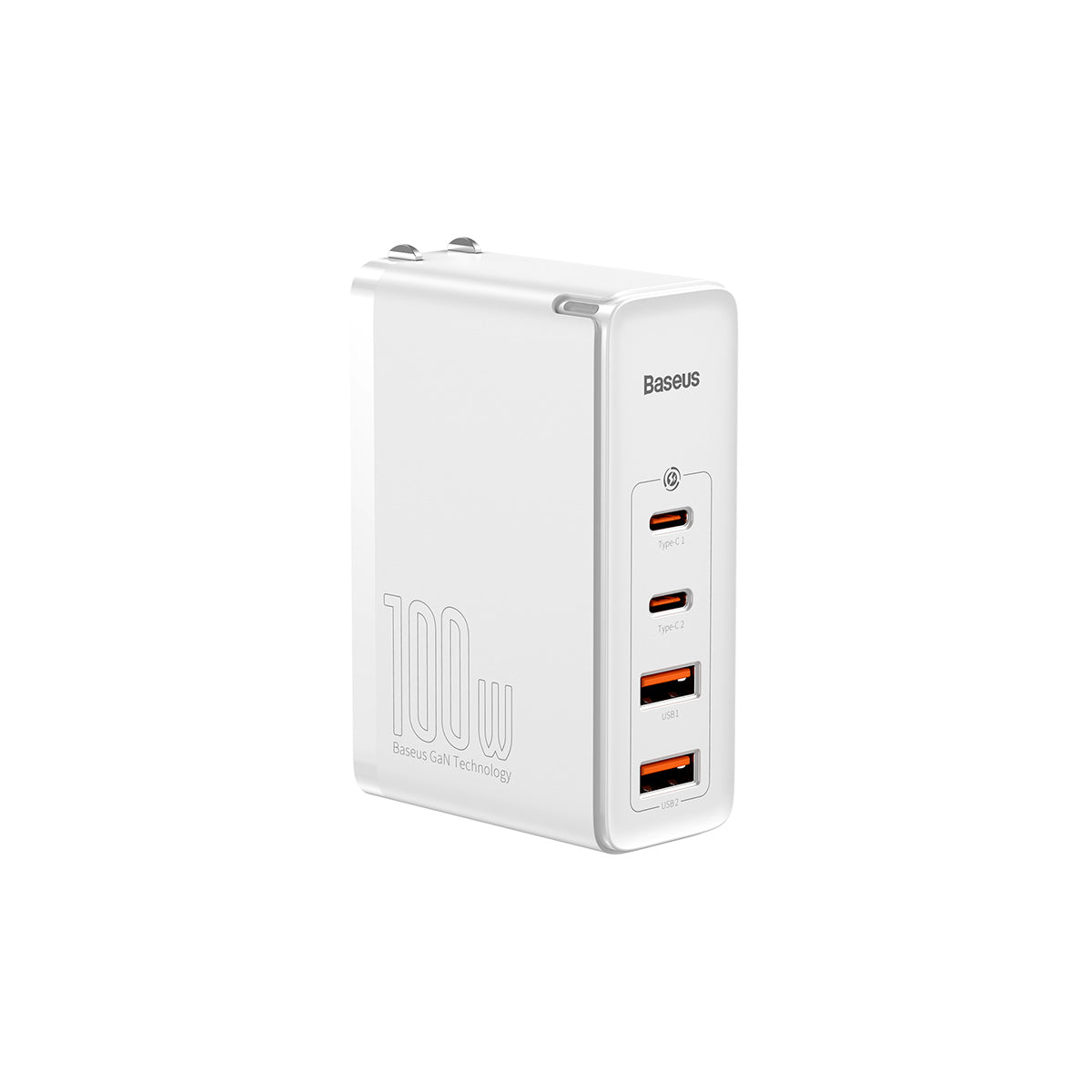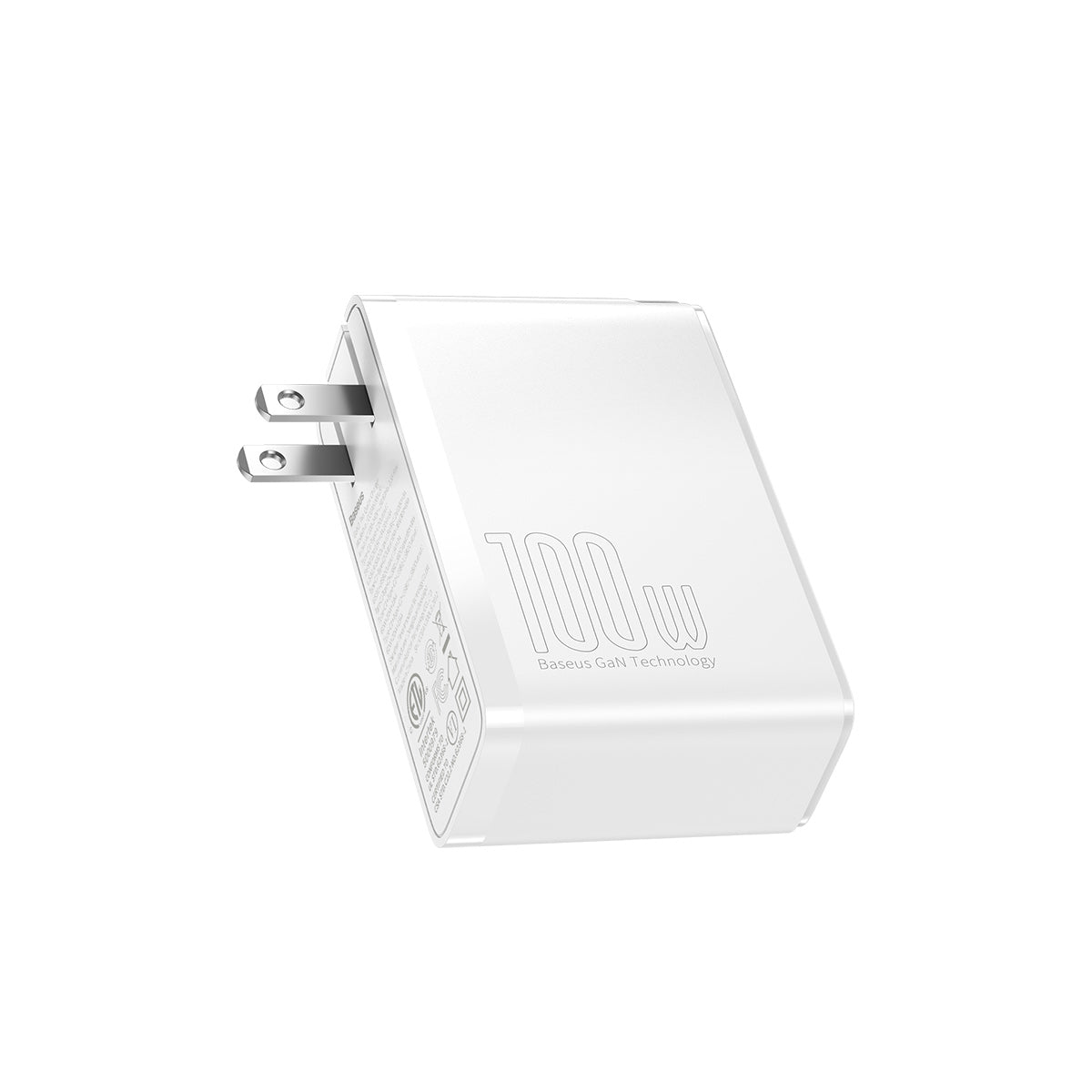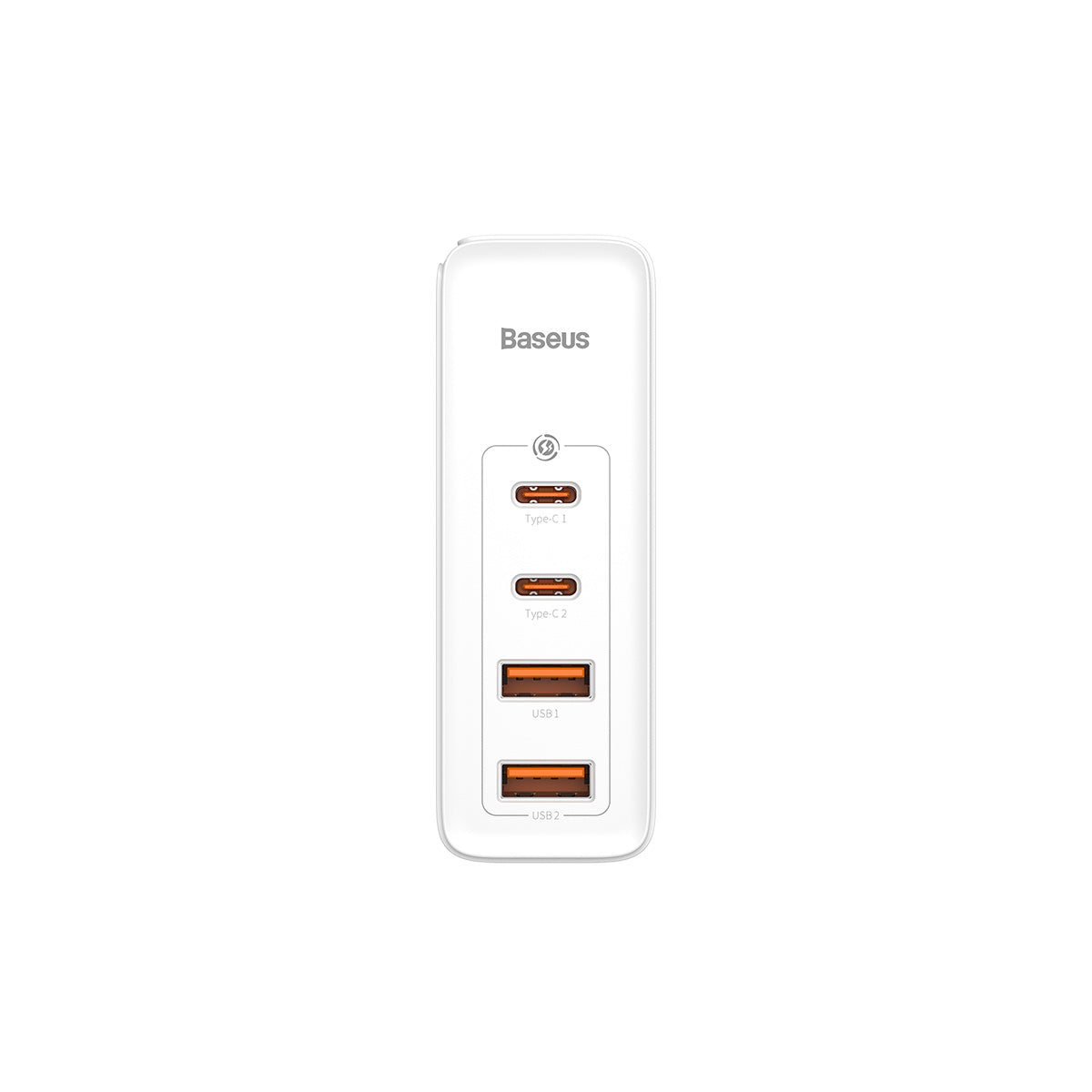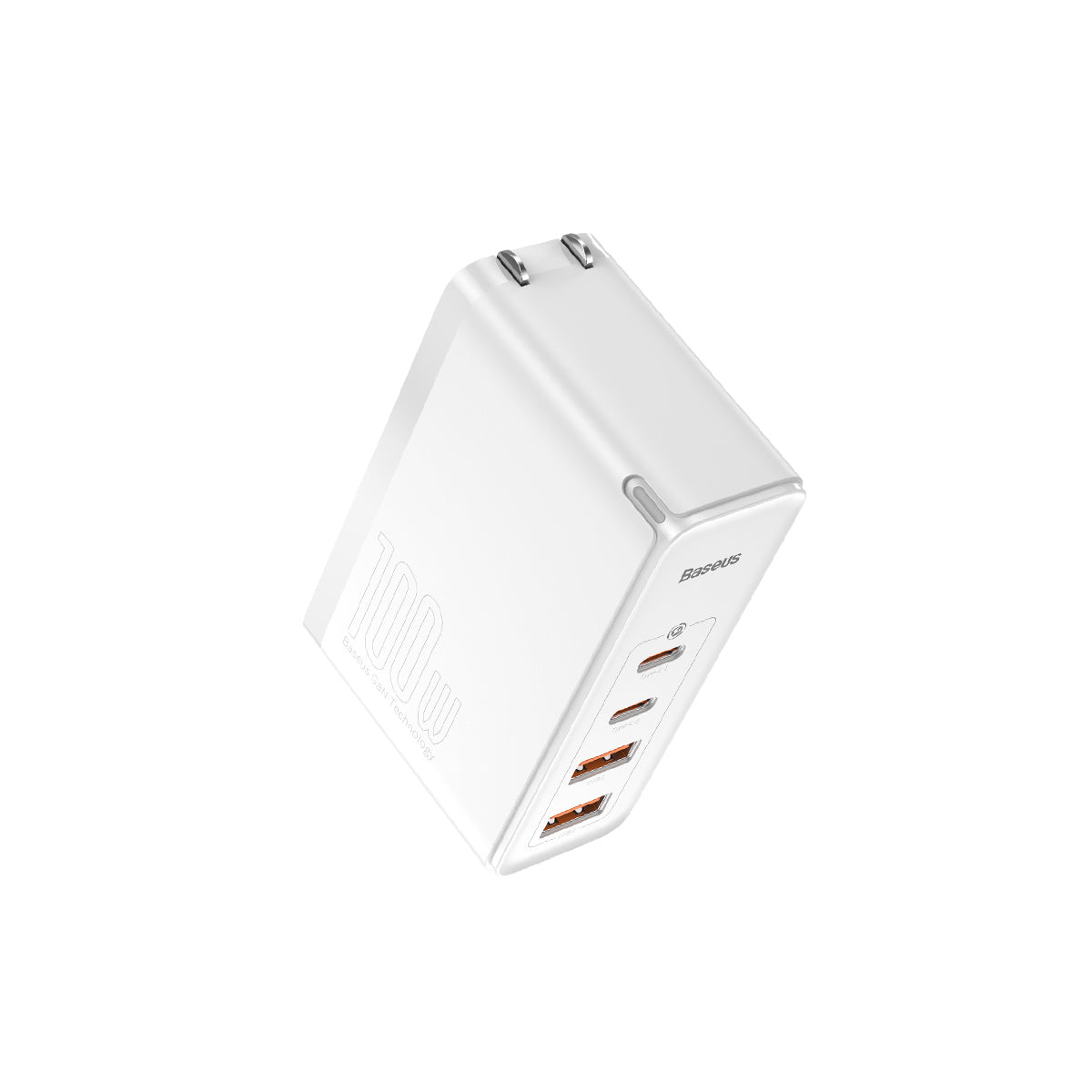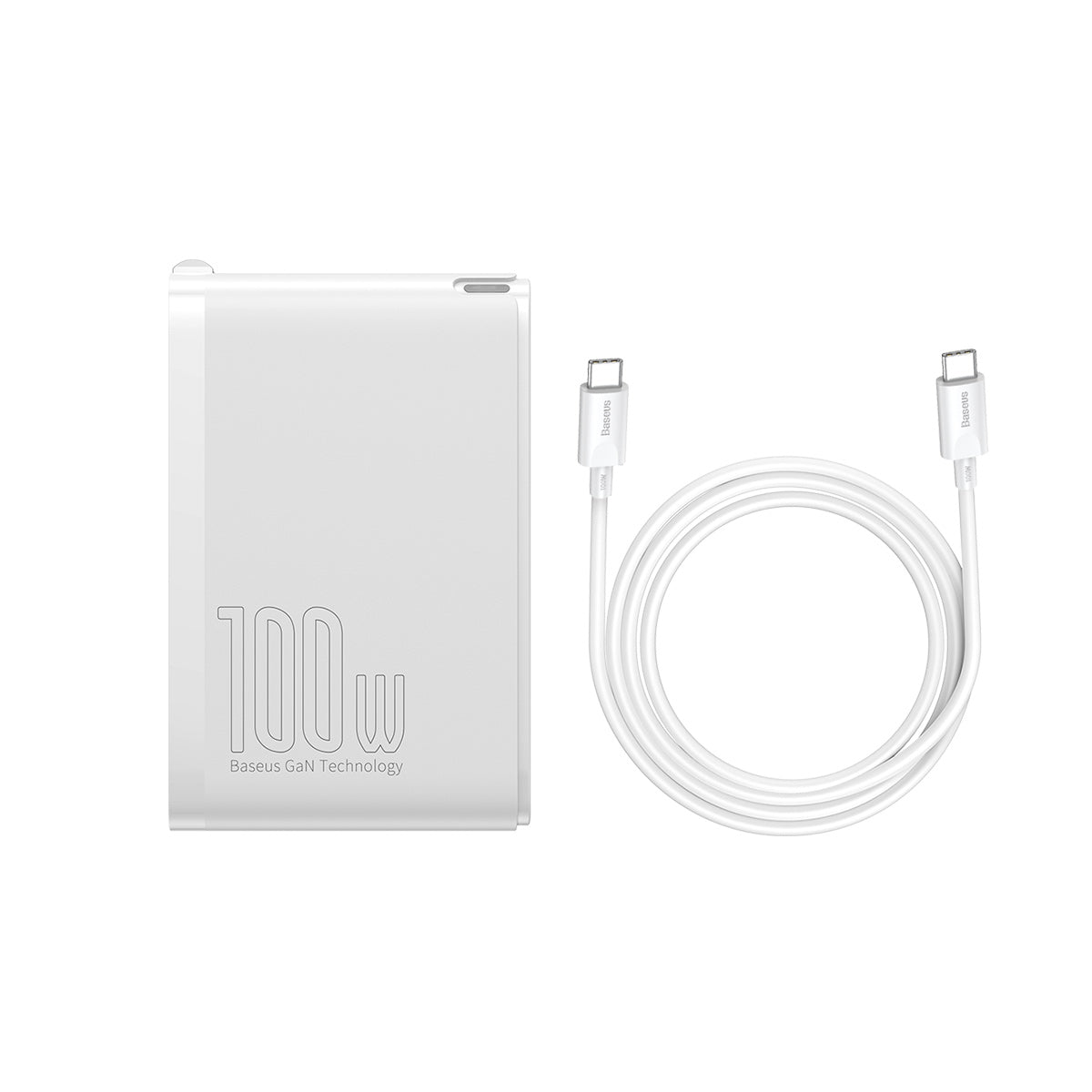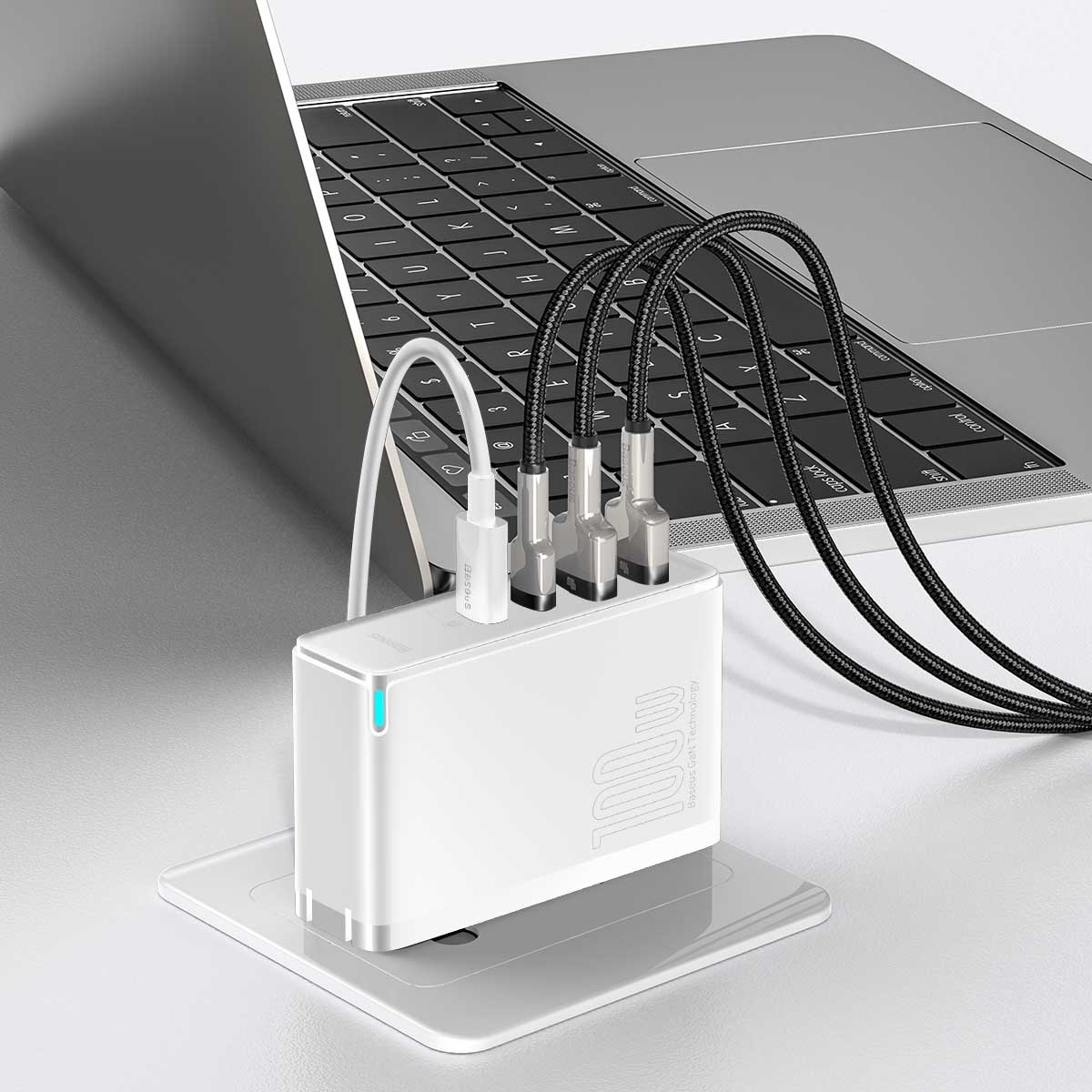 Baseus GaN2 4 Ports Fast Charger 100W
Baseus GaN2 Pro 100W Fast Charger is a compact GaN (Gallium Nitride) wall charger with 4 ports (2 USB-C and 2 USB-A) designed to fast charge several devices at a time or fast charging at 100W when only using 1 of the Type-C ports and the rest idled.
● Shared Charging System
● 100W fast charging for laptop
● Fast and Versatile
● GaN II Technology
More Powerful Than Ever Before
True High-power, 100W USB C Charger
Breathtaking high-power PD charger for all laptops with Type-C, full charge 96watt Macbook Pro 16" in only 2 hours.
Also compatible with Lenovo, Dell, HP, Chromebook, Surface, Acer, etc. More powerful than ever before, fastly charge 2 laptops simultaneously.
Blazing‑Fast Charging Speeds
Buckle up Now! up to 12 kinds of fast-charging protocols, including PD3.0, QC3.0, PPS, etc. charge iPhone12/12Pro to 50% in just 25 minutes. 3x faster than the original 5W charger. compatible with Samsung super fast charging.
100W USB C Charger, 4-Port GaN II Wall Charger
Save 75% of charging waiting time, fastly charge 4 devices simultaneously via BPS(Baseus Power Split) II intelligently power allocation.
100W is backward compatible with all different devices with different power. Adaptive fast charging depending on the power of your device instead of 100W power. it won't harm your battery life.
Compatible with Nintendo Switch and support "Charge-and-Play" in TV mode.
Power by GaN II Technology
GaN 2 Technology makes the 100W usb c charging block keep low-temperature than ever, 5x faster charging speed, 30% smaller body, energy-efficient, quiet-working, up to 6 kinds of protection.
The above data are measured by the Baseus laboratory. the actual use will be slightly different depending on the specific circumstances.
Type-C1/Type-C2 can output 100W independently, Support 2 laptops charging at the same time. more than dual ports fast charging, each independent port is the fast-charging port.
Type-C1/Type-C2 Support Samsung Super Fast Charging for Galaxy S20, S20 Ultra, S21, S21+, S21 Ultra,Note20,Note20 Ultra.
Due to the safety requirements of lithium batteries, charging speeds for phones will be faster from 0% to 50% capacity than from 50% to 100%.
Due to the over-power charging protection, if another cable is inserted during the fast-charging time, it will cut off the current to protect the device temporarily. Don't worry! Wait a few seconds of recognition, automatically resume normal charging, creinsert the cable if it is not restored.
Wide Compatibility
Compatible with MacBook Air 2020/ MacBook Pro 13" 2017/ MacBook Pro 13" 2020 / MacBook Pro 15" 2017/ MacBook 16" / MacBook 12" / MacBook Air 13" / MacBook Air 12"; iPad Pro 12.9"/11"/10.5"/9.7"; iPad Air 1/2/3/4 / iPad mini 1/2/3/4/5; DELL Latitude 7380/XPS 13/15/16; ASUS ROG zephyrus G14/Zenbook13/14/15; HP 15; HP Pavilion 11/13/15/ x360/ x360 14/x360 15; HP Envy 13/ 14/ 15/ 17/ Envy x360 15 Convertible; Lenovo ThinkPad X1 Carbon / X1 YOGA/YOGA 730/YOGA 910 /YOGA 930 / E14 / E15/ T490s /T495s/T480s/X270/X390/T470 /E490 / IdeaPad 3 /5 / Chromebook / Tablets /iPhone 12/12 Mini/12 Pro/12 Pro Max/XS/XS Max/XR/X /11/11 Pro/11 Pro max/8 Plus/8/7/6; Samsung Galaxy S21 Ultra/S21+/ S21/ S20 Ultra/ S20+/ S20/S20 FE /S10/S10e/S10+/S9/S9+/S8/S8+ / Note20+/20/Note10+/10/Note 9/Note 8/ Note 7/Z Fold2 / Z Flip; LG V60/ V50/ G8/ G7; Oneplus 9 Pro/9/8T/8 Pro/8/7 pro/6T; Google Pixel 2/3/4/4a/5; Airpods / Airpods Pro / Apple Watch 6/SE/3; Surface Pro / 7, PS4, PS5, Xbox, USB-C headphone, Oculus, Nintendo Switch Dock.
What's in the Box
1* Baseus 100W 4-Port GaN II Charging Adapter
1* Baseus 100W (20V5A)USB-C to USB-C cable with E-Marker chip
1* User Manual
The supported charging protocol is PD2.0/3.0.
It needs to be used according to the power interface instructions. In the case of multi-port use, there will be shunting.
Type-C1+Type-C2 + USB1+USB2=60W + 20W +(USB1 and USB2 share 15W )
100W USB-C to USB-C Cable with E-marker Chip is included, this is the best cord.
No. The maximum power of the USB-C port is 18w.