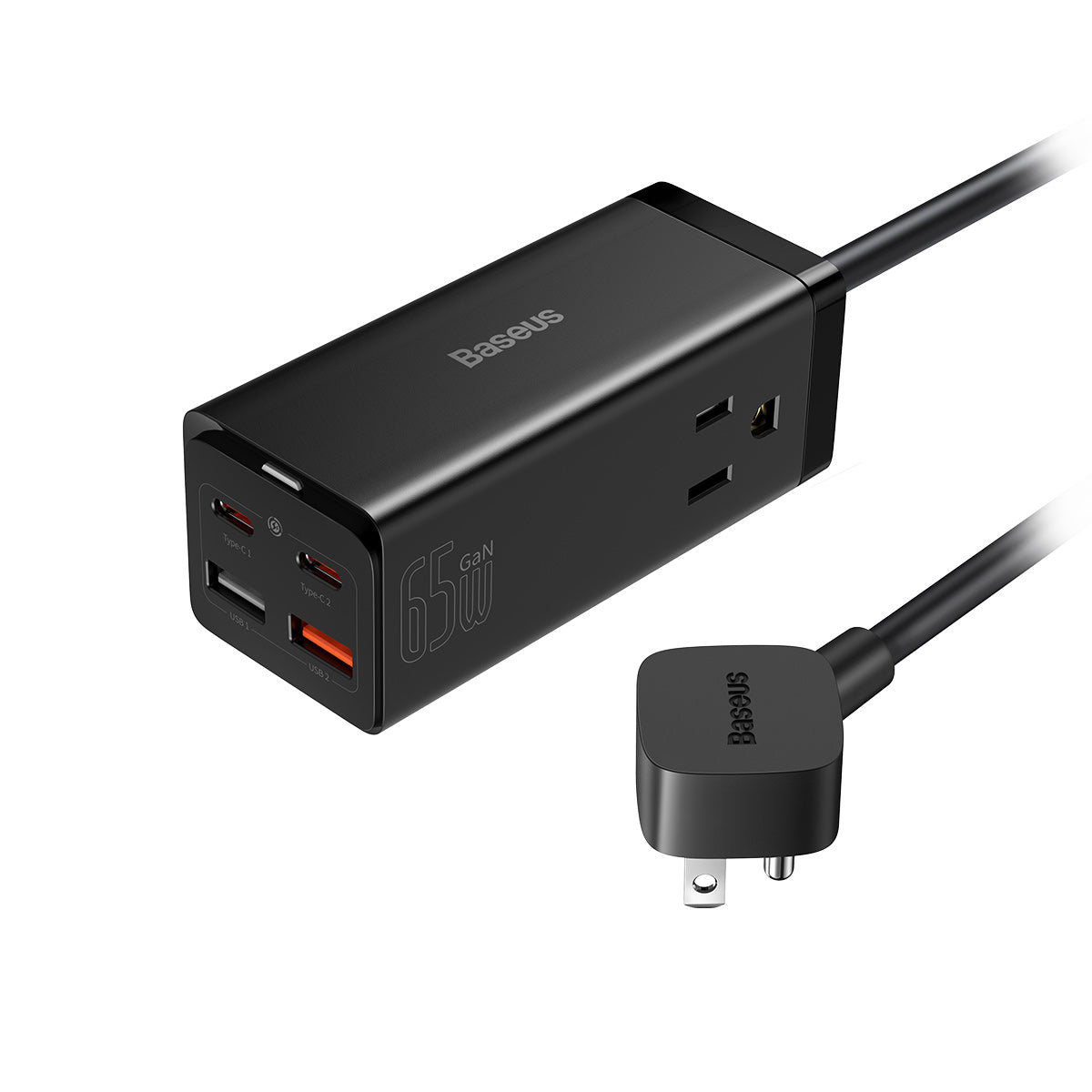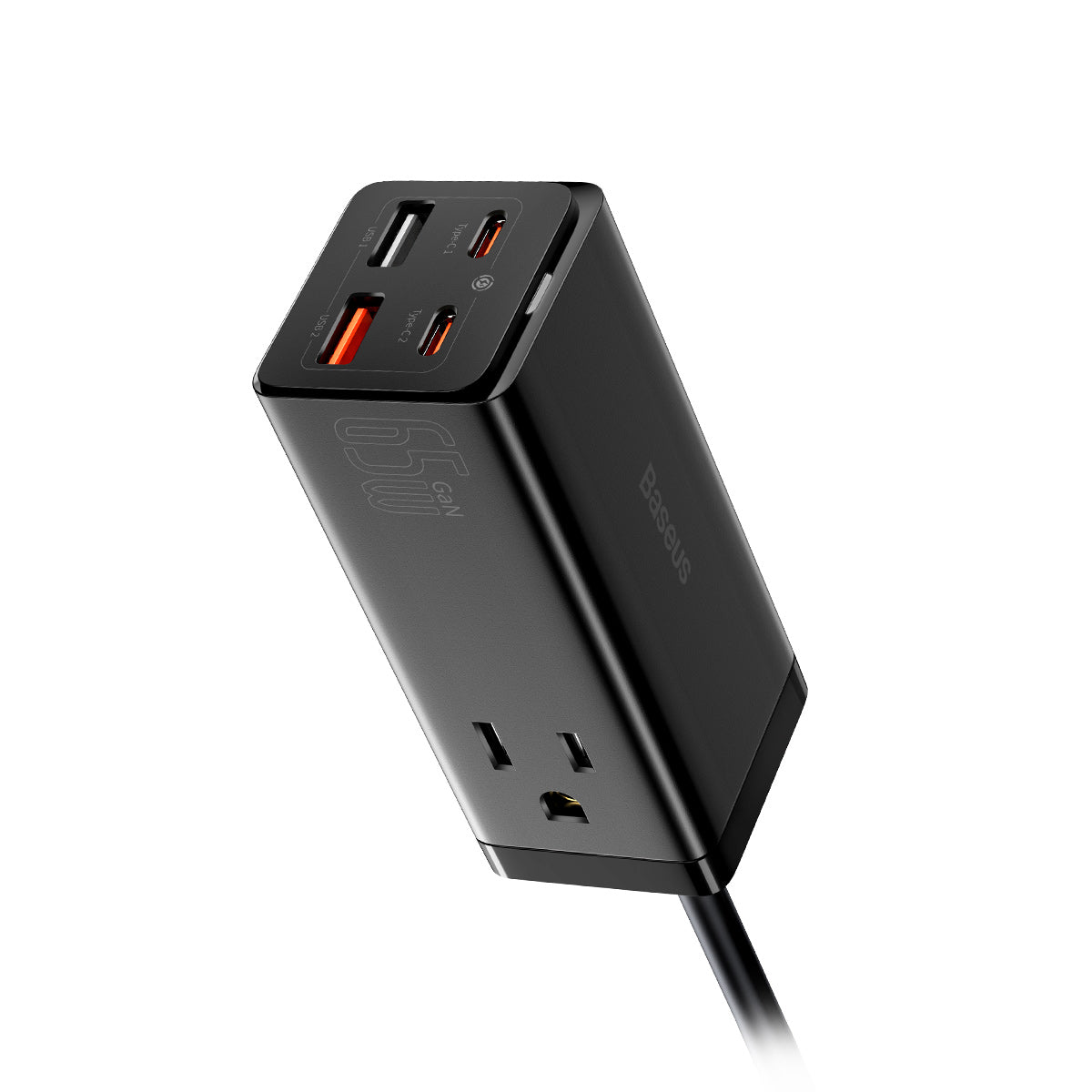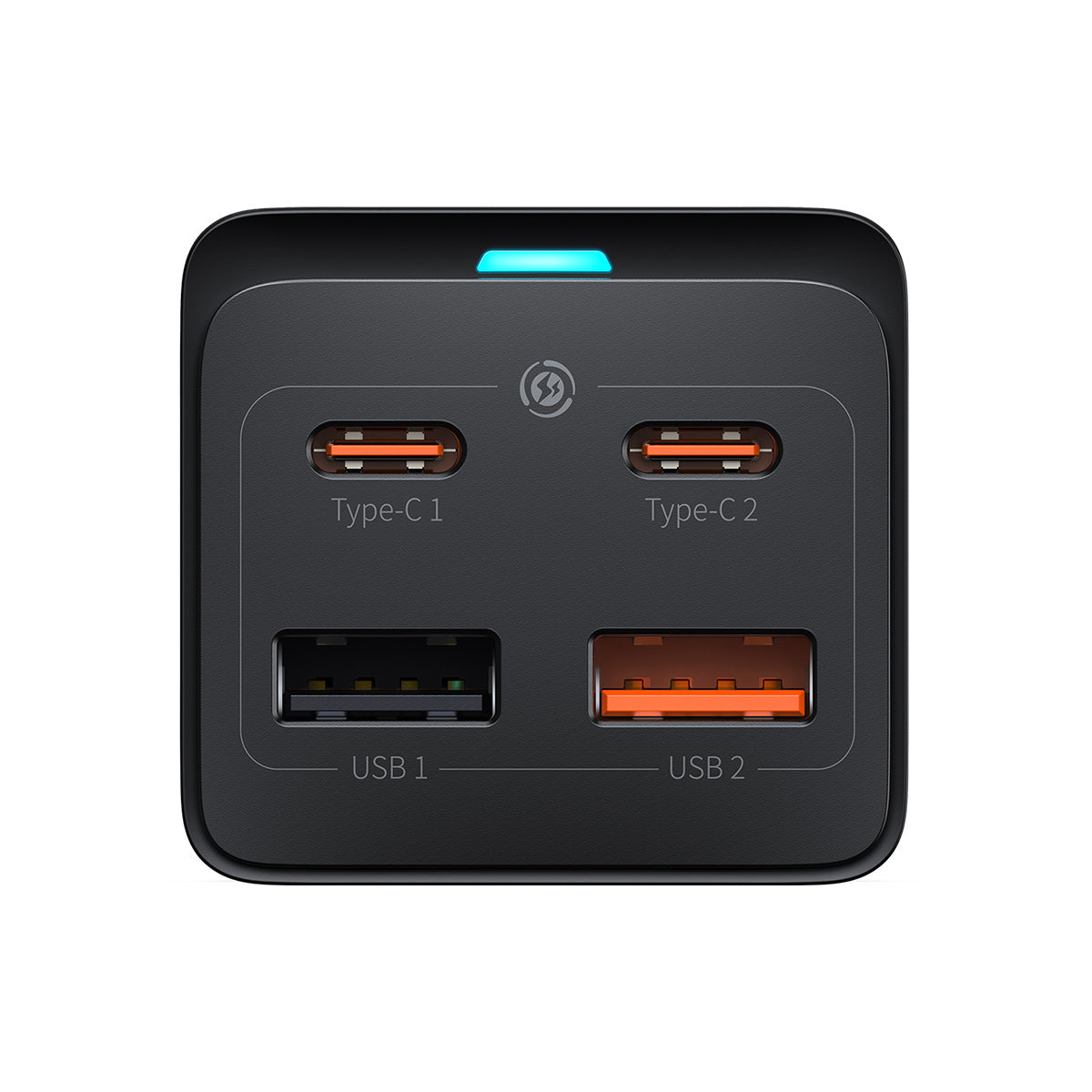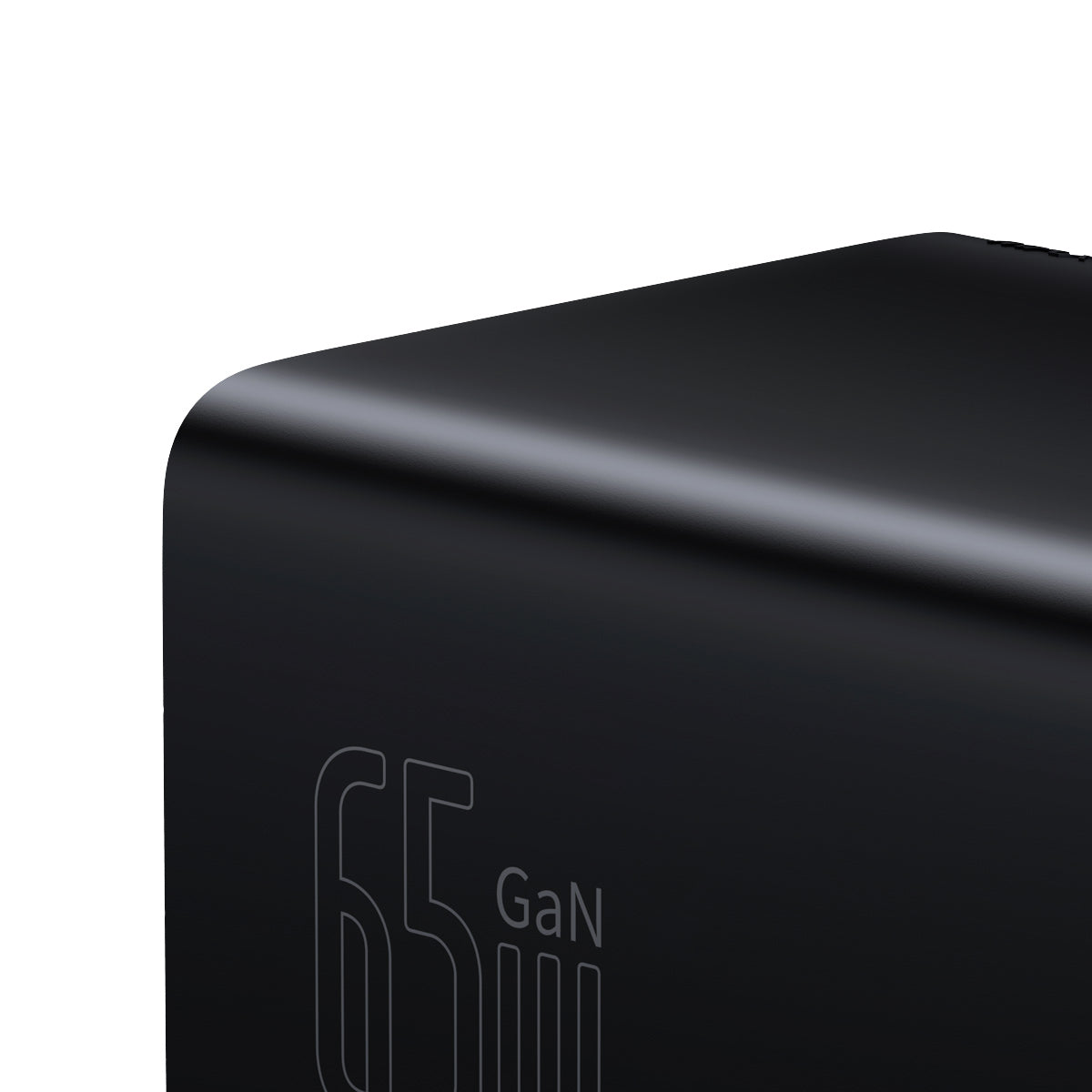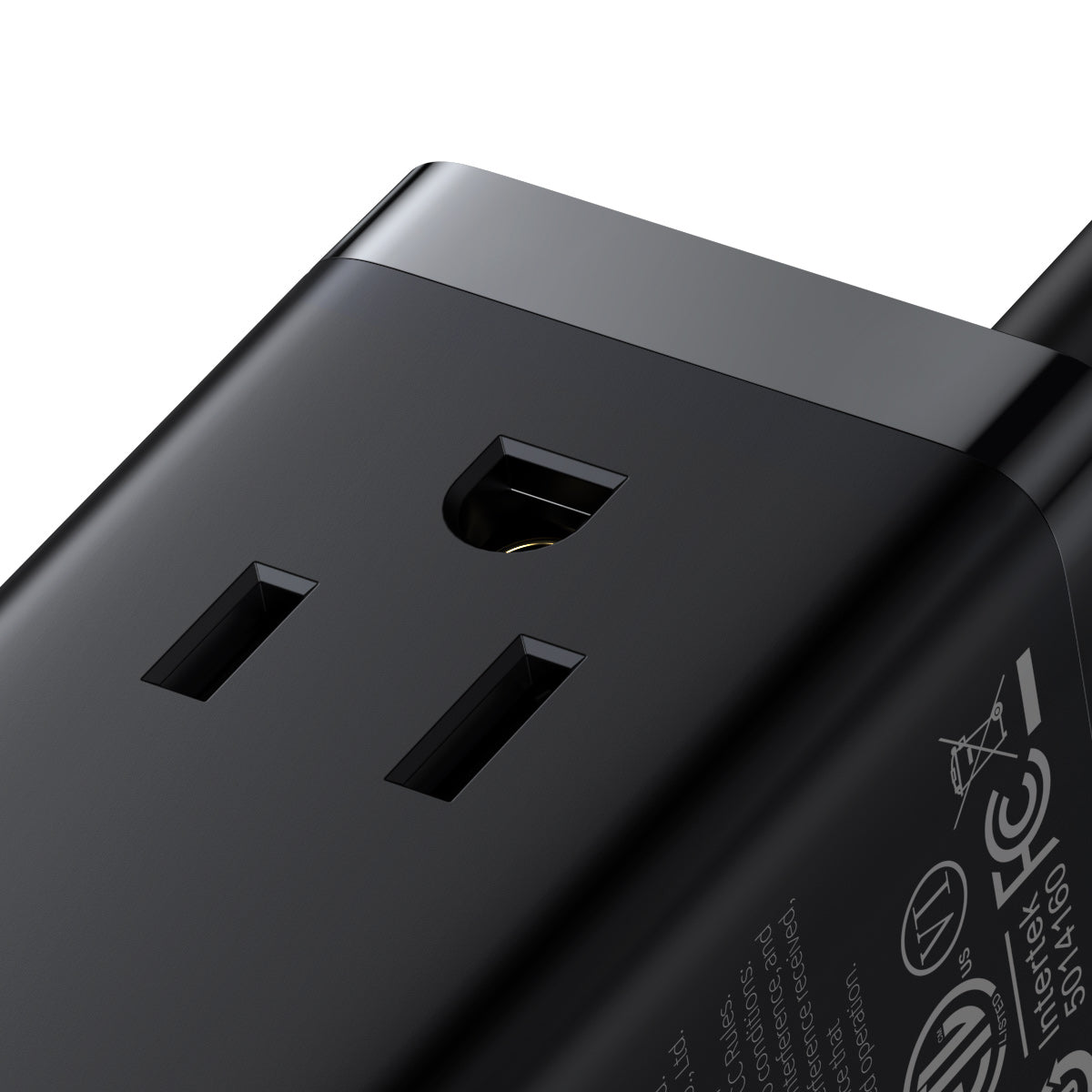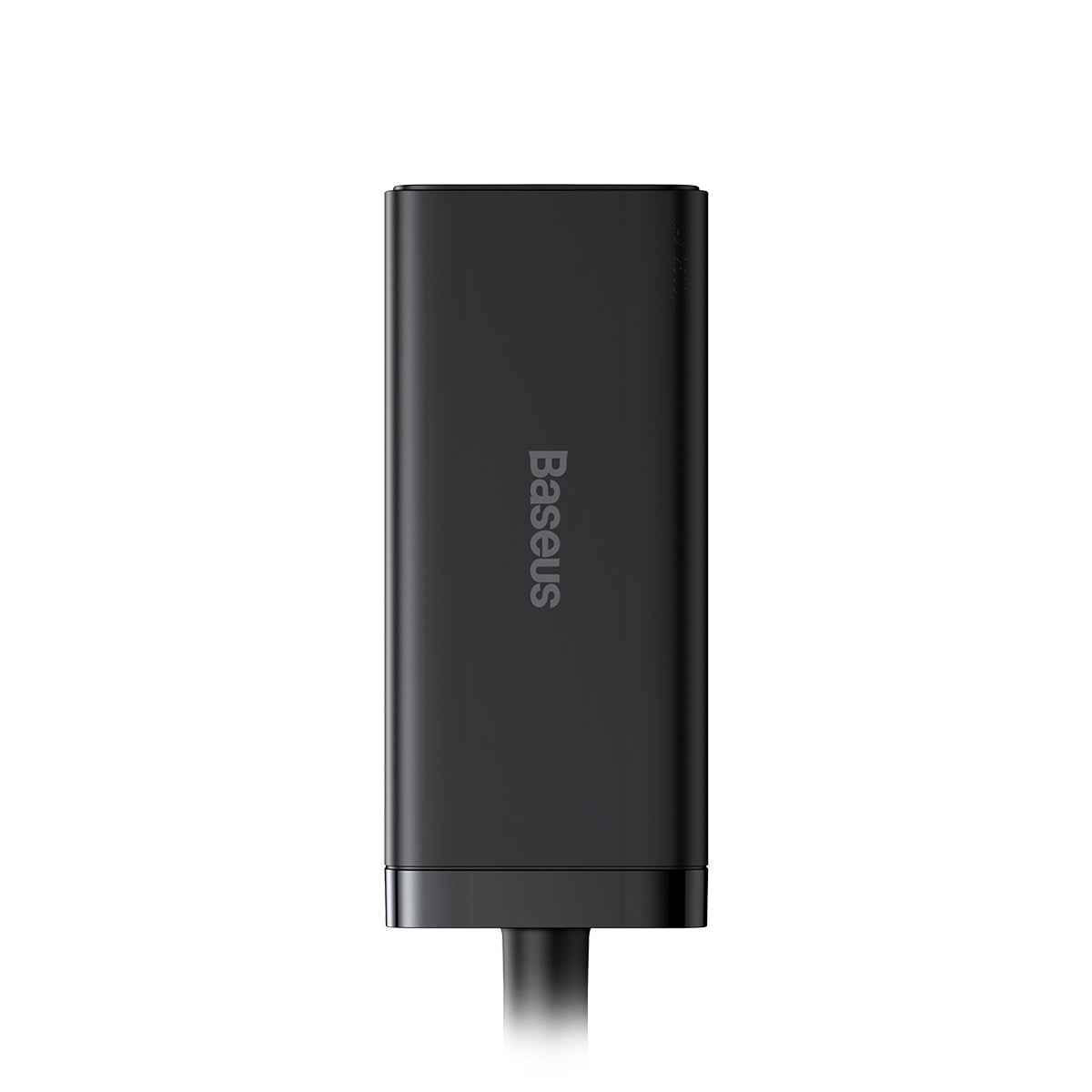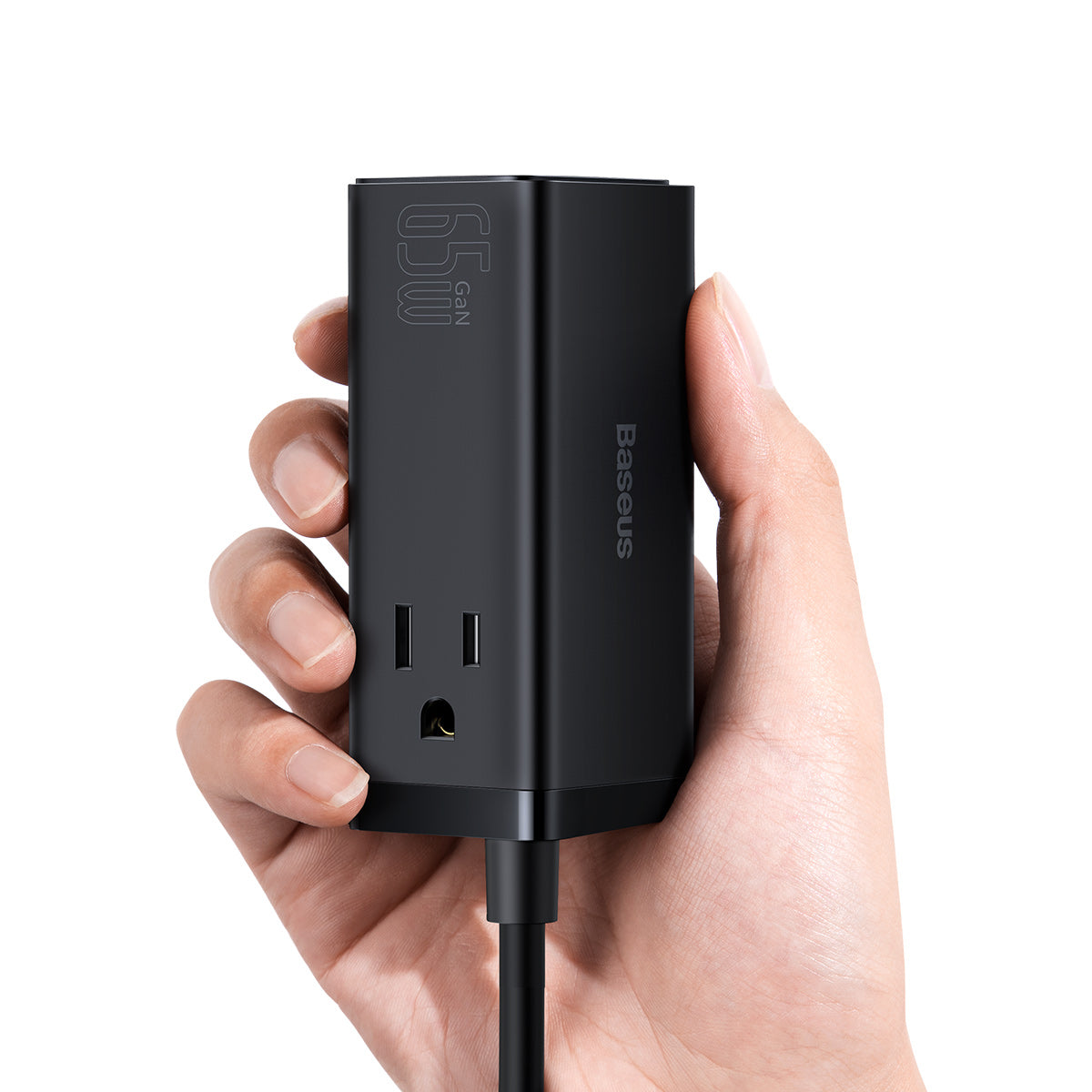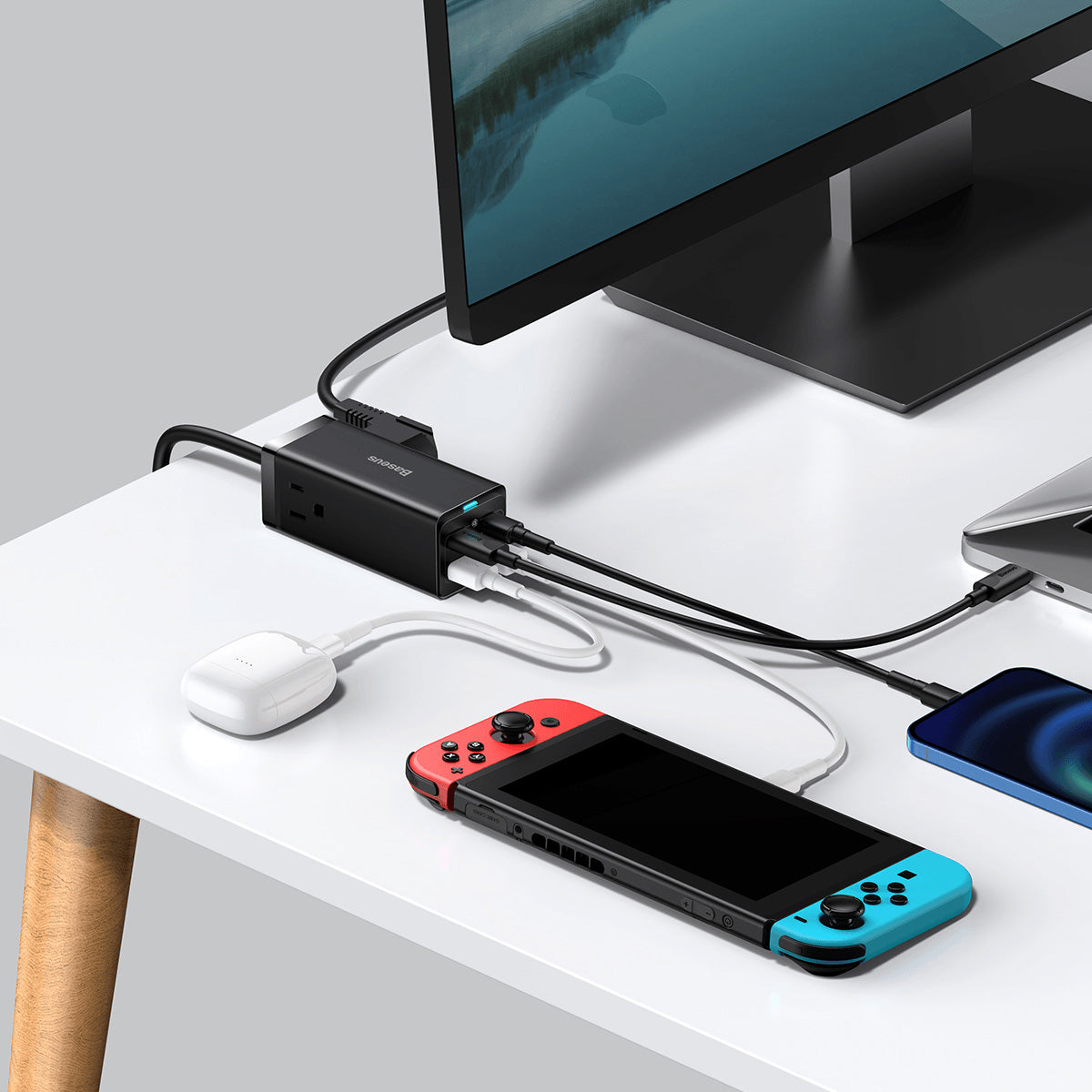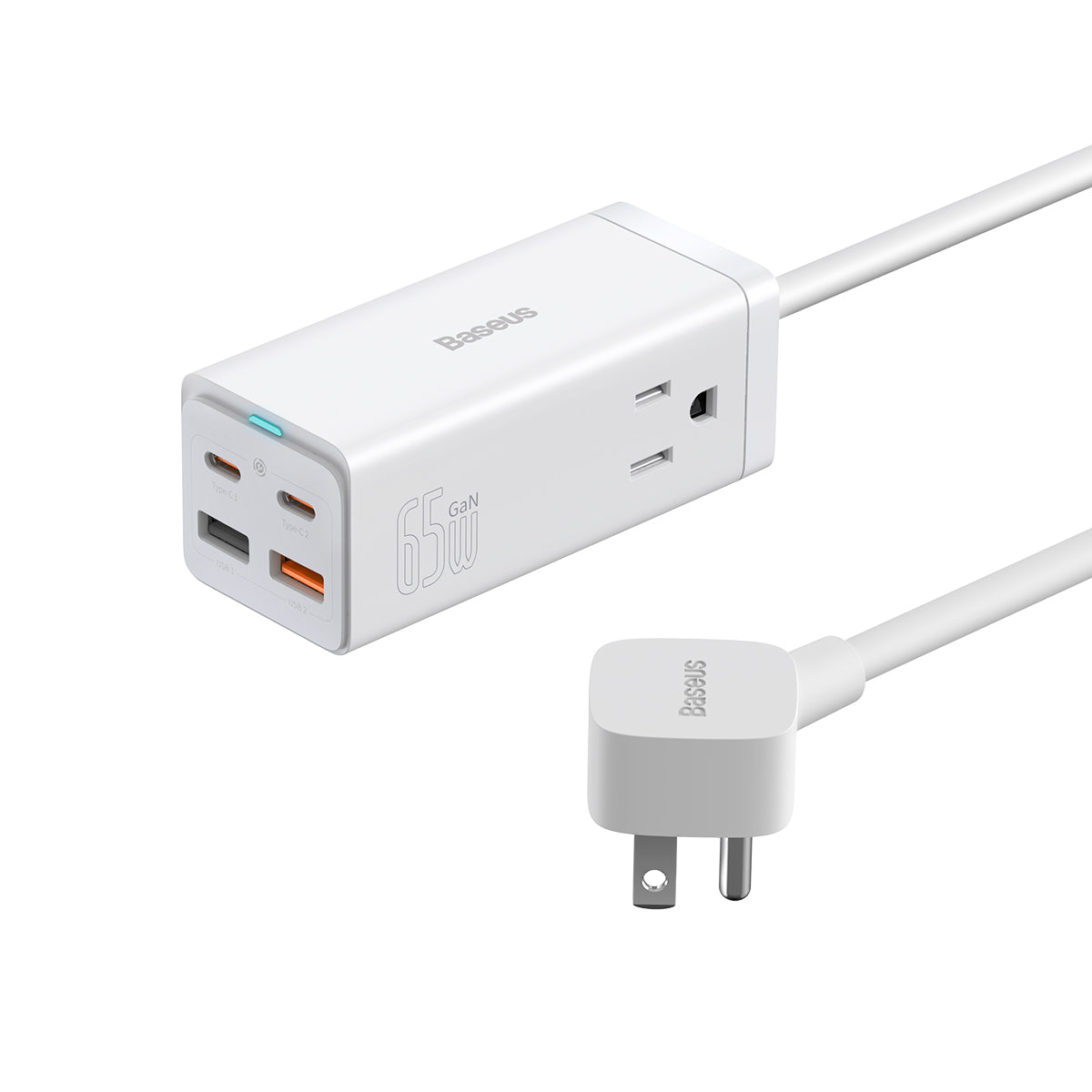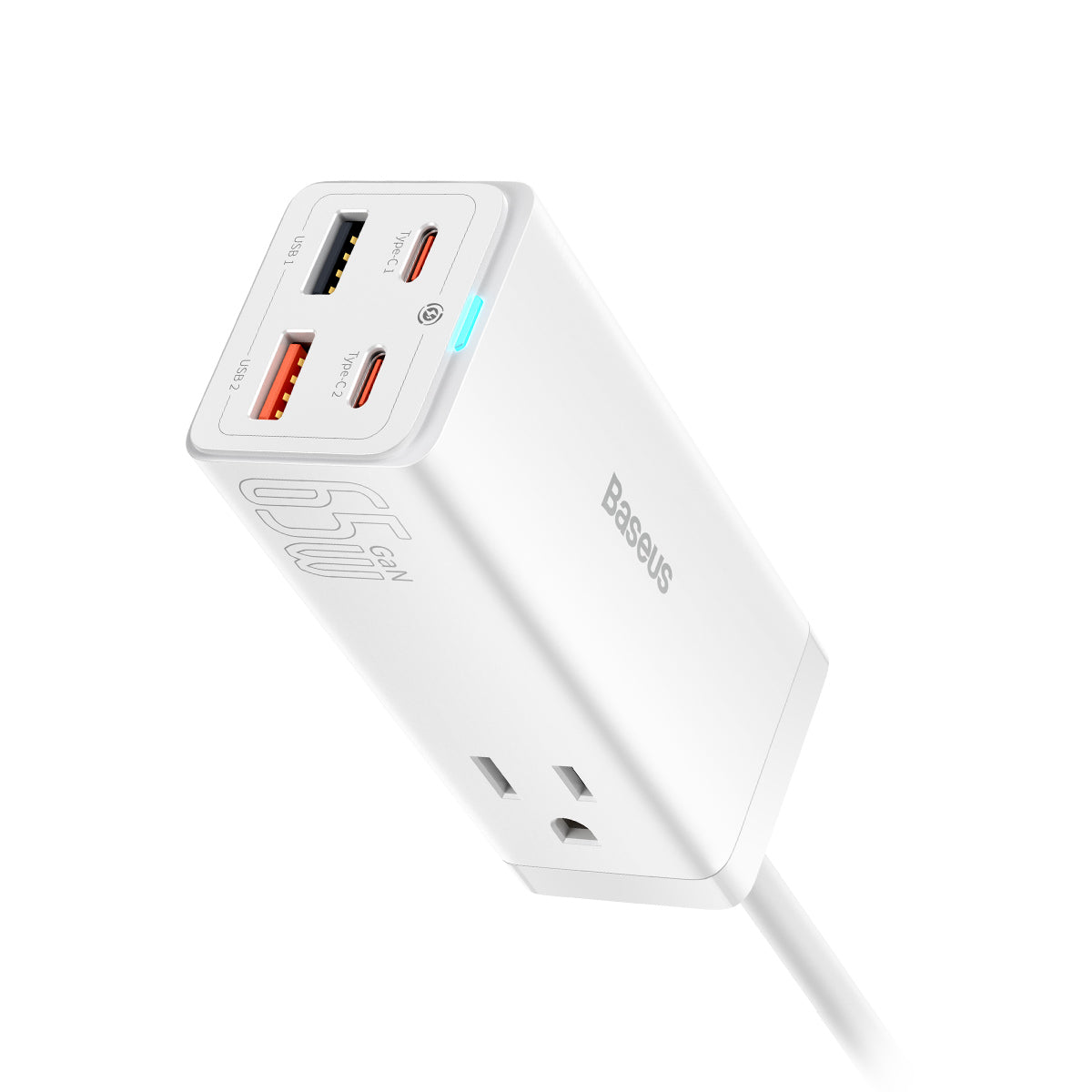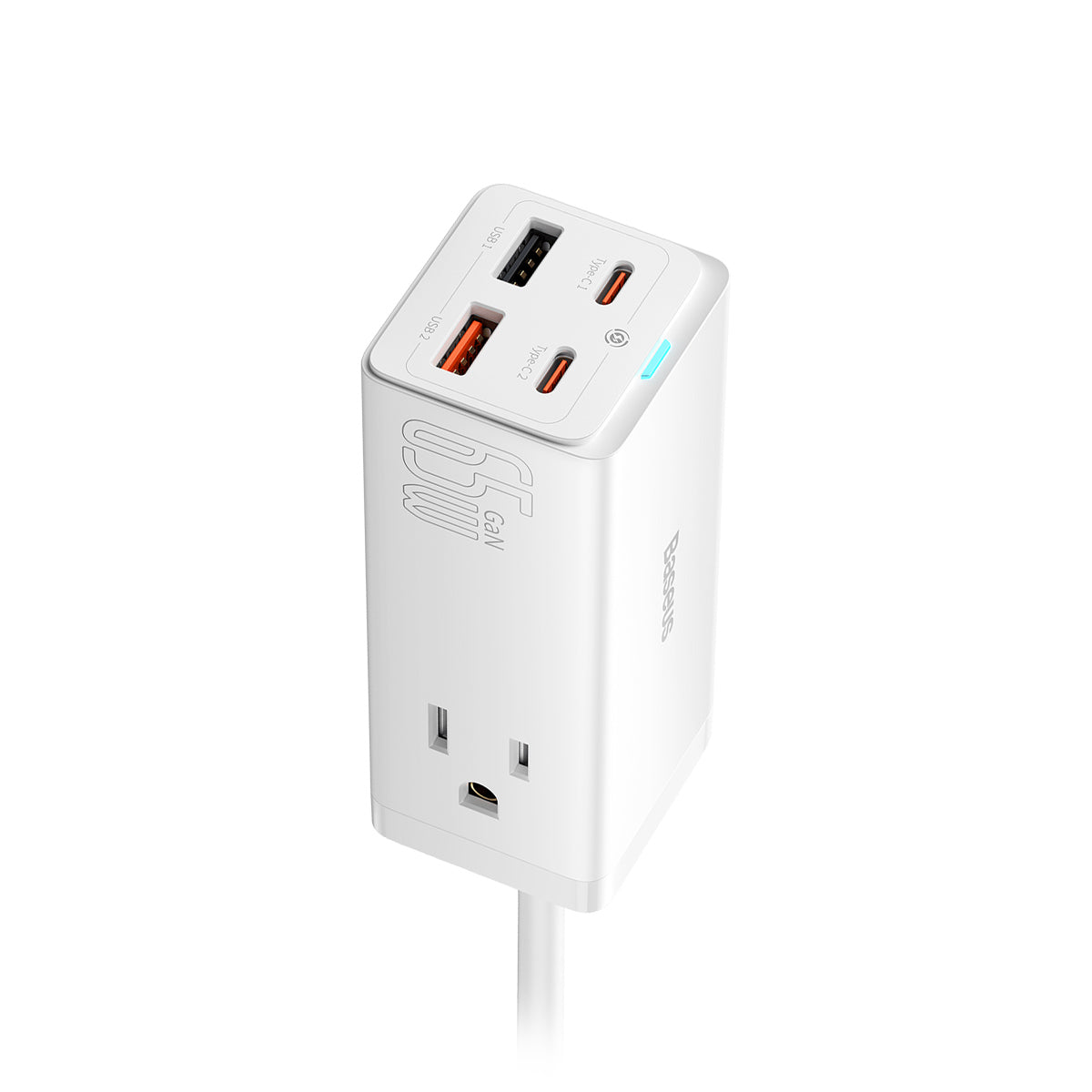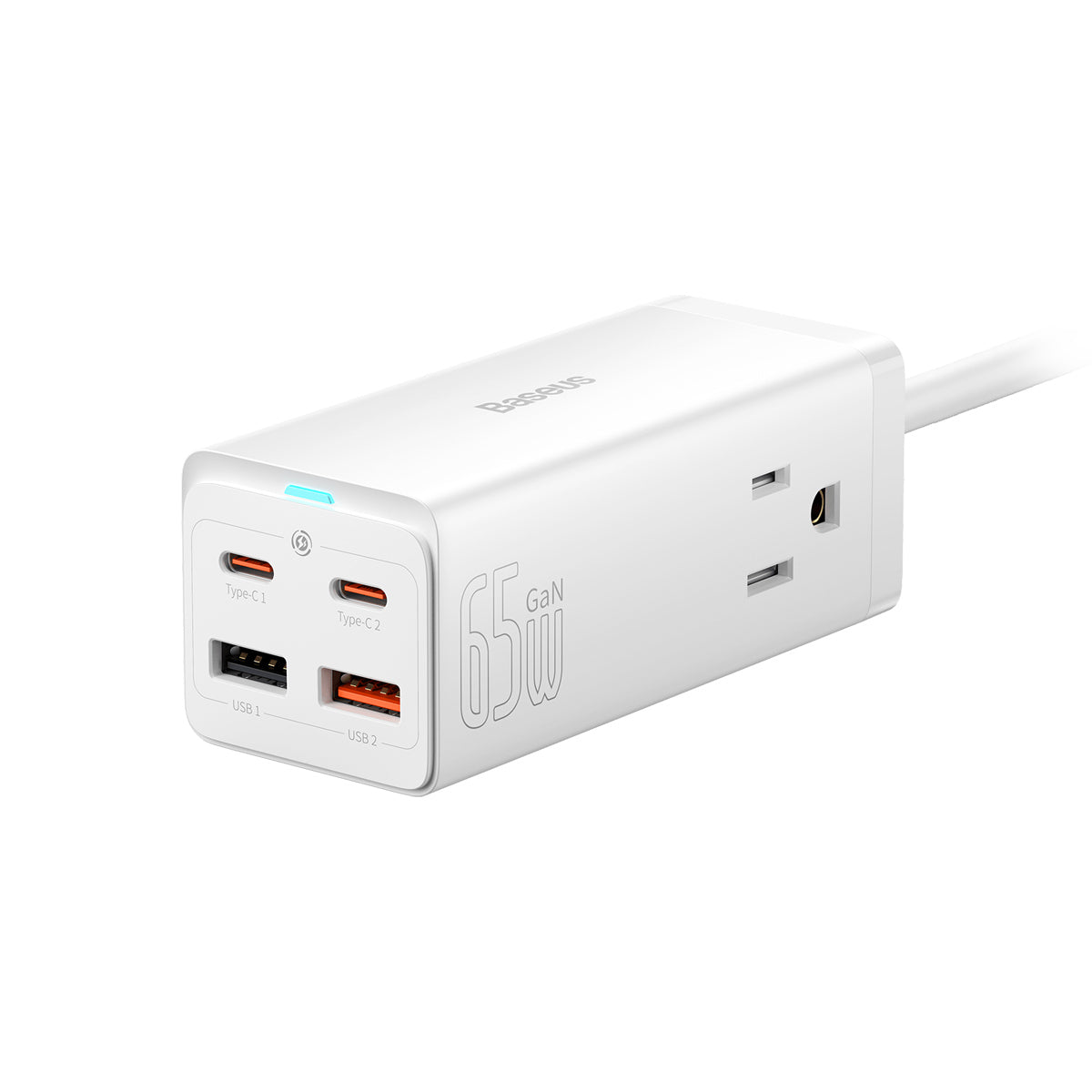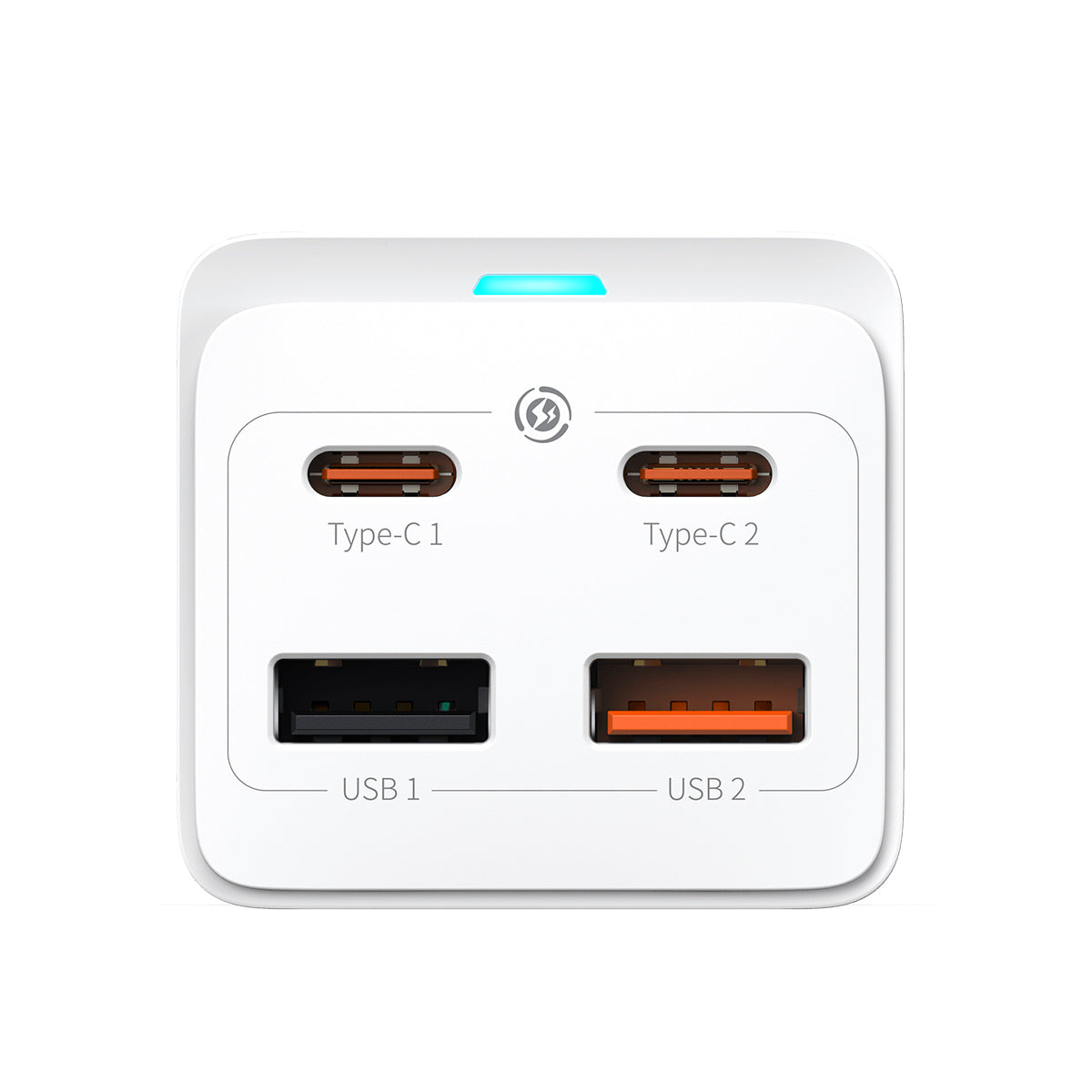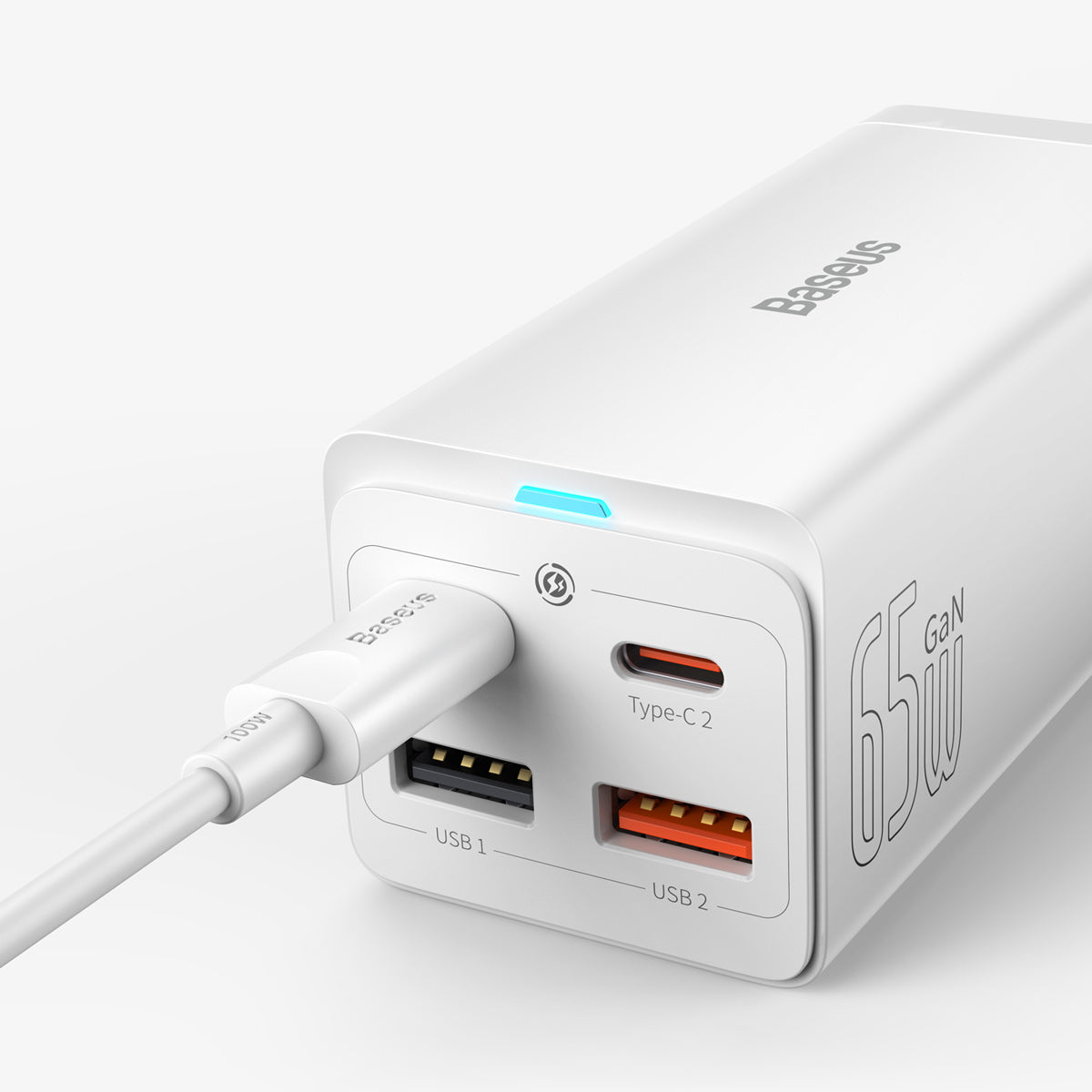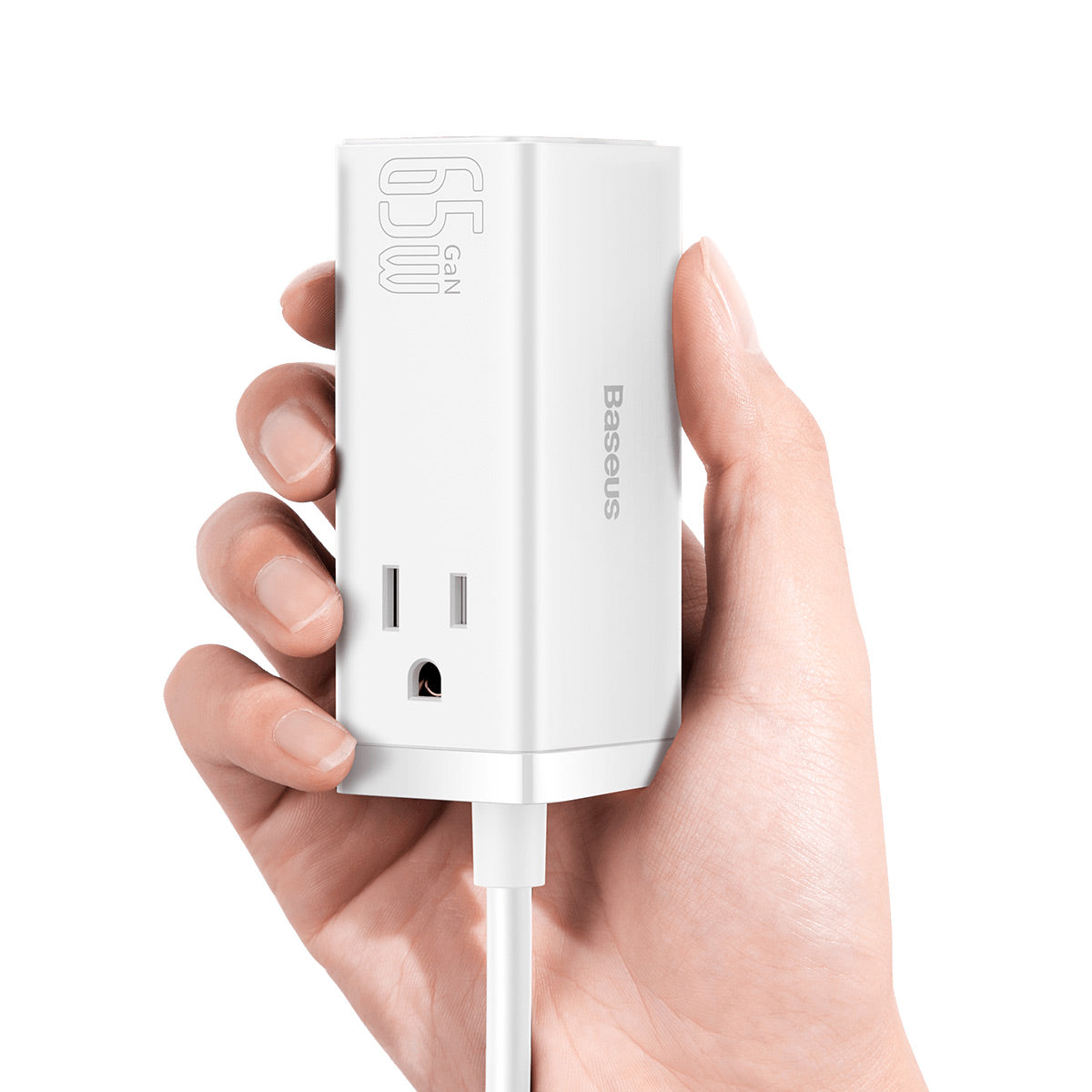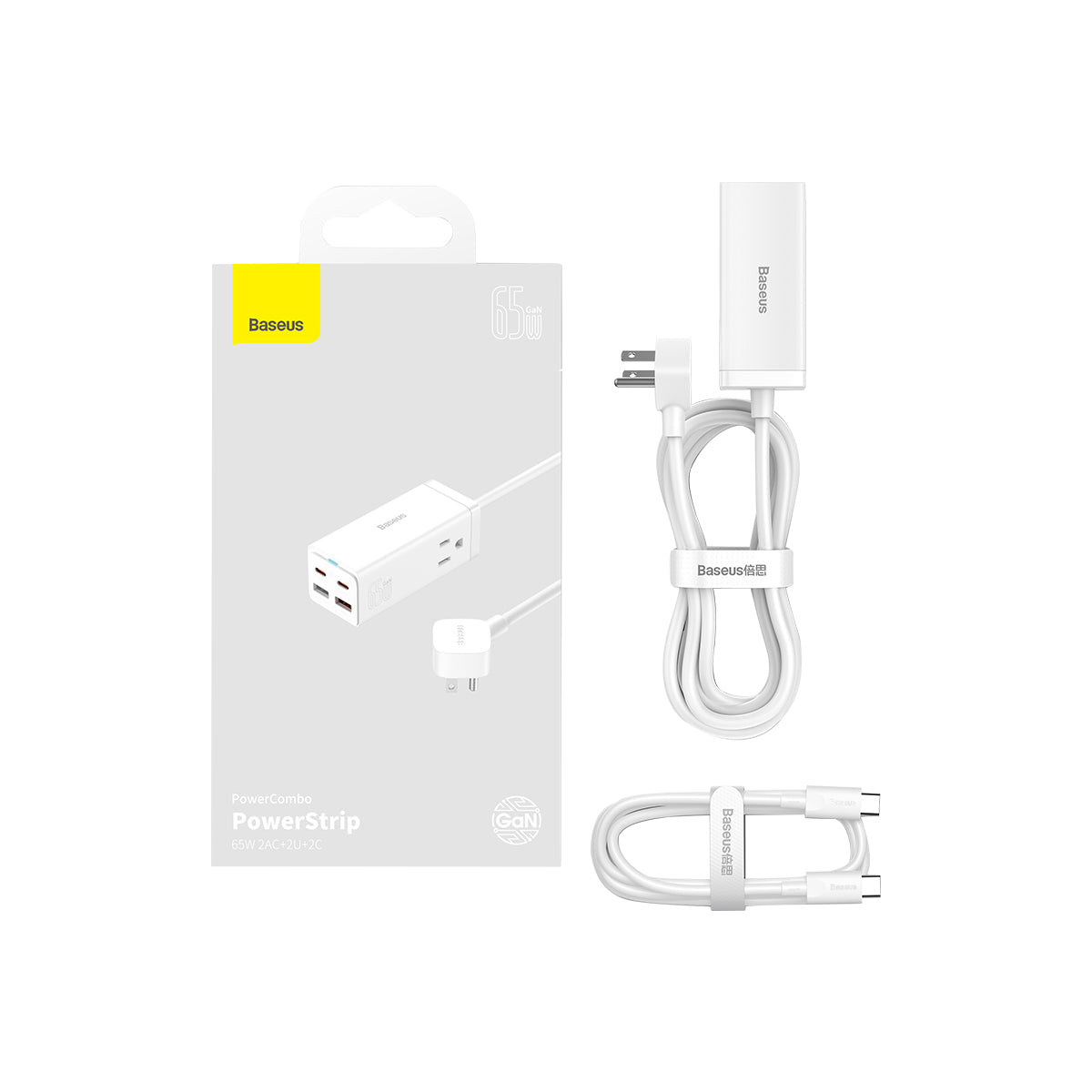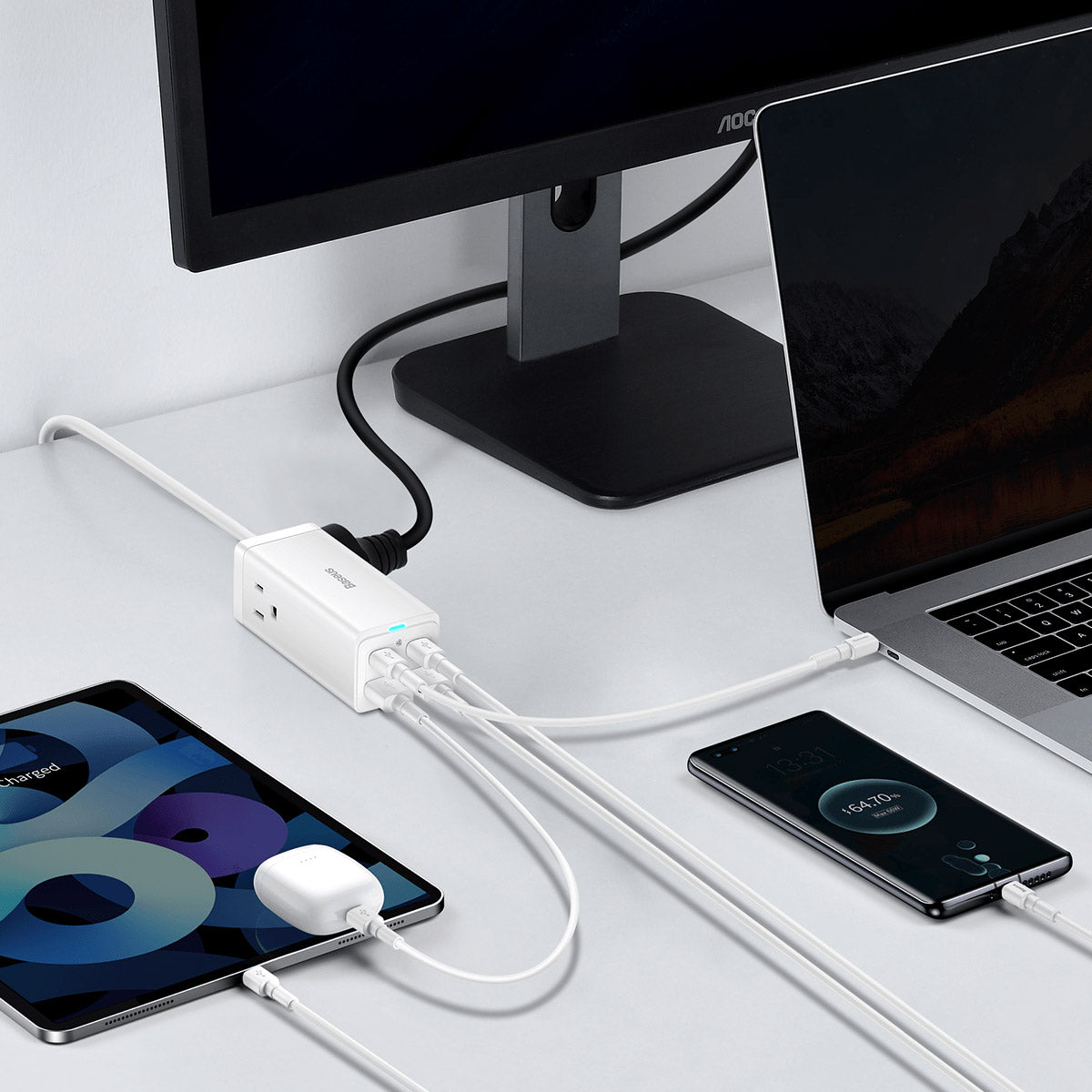 Baseus GaN3 Pro 6 Ports Power Strip 65W
PowerCombo 65W surge protector Power Strip is a charger-like multiplug featuring 2 USB-C plus 2 USB-A ports, and 2 AC outlets. USB-Cs and USB-As share the output of 65W, and the Type-C ports are rated for a max. It plays the role of both a charger and a power strip allowing you to charge 4 and power up 2 — 6 devices simultaneously charging.
● Power up to 6 devices at a time
● 65W PD Fast Charging
● Universal Compatibility
● Downsized Design GaN Charger
● GaNIII Pro Tech & ETL Certified
In stock
Introducing our new 6-in-1 desktop charger - PowerCombo 65W
With 2 AC outlets, 2 USB-C PD Ports and 2 USB-A PD Ports, Baseus 65W GaN3 USB C Charging Station enables intelligently delivers power for up to 6 devices simultaneously. Designed to charge laptops and phones at the same time.
Note: As a multi-port charger, an overpower protection is integrated. When you plug an extra cable to charge a second device or more, it will cut the current and pause for seconds then reallocate the optimal power to each device. In a rare case, that charger failed to reallocate power, please unplug then plug back your charging cable.
No More Charger Blocks. No More Waste.
Fewer chargers mean less environmental impact.
In the past, power adapters use the largest amounts of certain materials, including plastic, copper, tin, and zinc. The Process of producing and discarding will increase excessive carbon emissions.
Now, Baseus can do some things.
65W All-in-one Desktop Charger was designed to reduce the material of chargers, and integrate a traditional power strip and USB charger onto a Stunningly compact design. By integrating the industry-leading GaN technology, we conferred chargers a 65W power and promoted structural optimization.
Why Baseus 65W All-in-one Desktop Charger?
True Fusion Technology, integrates a traditional power strip and USB charger onto a Stunningly compact design

Power 6 Device at once, for your different mobile devices and laptops

65W High-power Fast Charging, Fast charge MacBook Pro 16" 2019 from 0% to 40% in just 30 mins

USB PD Fast Charging, fast charge your iPhone 13/13 Pro up from 0% to 50% in just 30 mins

A Breaking-though Chip - GaN III Chip that Conferred Higher Power and Better structural optimization

All-day Charging Protection with 7 Safety Protections and Anti-touch Protection

Advanced Dual-zone Cooling. Prevent overheating while working

Durable Material and Sleek Design

4.9 ft Long Thick Extension Cord

45° Angled Plug Design without Occupying Extra Space on Socket

Baseus Friendly Customer Support
Stunningly Compact Design
The compact size and high-performance GaN Chip make it easy to pack and store.whether you're at home, in the office, or on the go.
7 Safety Protections
Equipped with temperature protection, over-Current protection, over-voltage protection, overcharge protection, overload protection, overheat protection and short circuit protection.
PD Fast Charging for iPhone 13 Series
Equipped with USB PD Charging, fast charge your iPhone 13/13 Pro up from 0% to 50% in just 30 mins.
A Charging Guide that Saves Your Question Time
F

or a better fast charging experience, when using our all-in-one desktop charging station to charge your laptop, please make the other 3 USB ports are free, or use your laptop adapter to connect to the AC outlet for charging.

USB1 Port that is designed for small device safe-charging, Baseus recommends using it with your AirPods, Apple Watch.

The rated voltage is 125V. does not support a 220V power source. it's not suitable for international travel

The AC outlets are rated for 1250W, it does not support high-power appliances such as space heater, hair dryers and more.
Extensive Compatibility
Laptops and Tablets:
Compatible with MacBook Air M1 2020/ MacBook Pro 13" 2020/ MacBook Pro 13" 2017 / MacBook Pro 15" 2017/ MacBook 16" / MacBook 12" / MacBook Air 13"; DELL XPS 13; Surface Pro 8/7; HP Pavilion 11/13/15/ X360/ X360 14; HP Envy 13/ 14/ 15/ 17/ Envy x360 / Lenovo ThinkPad X1 Carbon / X1 YOGA; Chromebook
iPad Pro 12.9"/11"/10.5"/9.7"; iPad Air 1/2/3/4/5 / iPad mini 1/2/3/4/5; Galaxy Tab S8/S8+/S8 Ultra/TAB S7/ S7+
Phones and Accessories:
Compatible with iPhone 13/iPhone 12/12 Mini/12 Pro/12 Pro Max/XS/XS Max/XR/X /11/11 Pro/11 Pro max/8 Plus/8; Samsung Galaxy S22 /S22 Ultra/ S21 Ultra/S21+/ S21/ S20 Ultra/ S20+/ S10/ S10+; Oneplus 9 Pro/ 9 / 8T / 8 Pro / 8 / 7 pro / 6T; Google Pixel 6 / 5 / 4 / 4a / 3/; Airpods / AirPods (3rd generation) / Airpods Pro / Apple Watch 7 / 6 / SE / 3, USB-C headphone, Oculus, Nintendo Switch Dock.
Home Appliances:
Baseus recommends using it with Mini Projector, Monitor, Printer, Lamp, Coffee Maker.
The AC outlets are rated for 1250W, it does not support high-power appliances such as space heater, hair dryers and more.
Specs
| | |
| --- | --- |
| Charging Ports: | 2 USB C + 2 USB A + 2 AC Outlets |
| Wattage: | 65W |
| Product Dimensions: | 3.82 x 1.61 x 1.5 inches |
| Item Weight: | 15.5 ounces |
Yes. It is equipped with BPS charging technology, intelligently adjusts output current, voltage, and power, and realizes dynamic distribution of power.
This device with Baseus PD fast charging cable can provide 27W fast charging for iPhone 13Pro Max.
The main usage scenario of this model is office, and the power is generally small, not exceeding 2500W.
QC4+, PD3.0, QC3.0, QC2.0, SCP, FCP, AFC, PE+, PPS are supported.
If one USB interface supplies power to Pods or watches, and the other USB supplies power to other devices, it may cause insufficient charging. Please remove the power supply of other devices.